Submitted by

Rachel @ Art Hi...

on Tue, 03/02/2021 - 15:17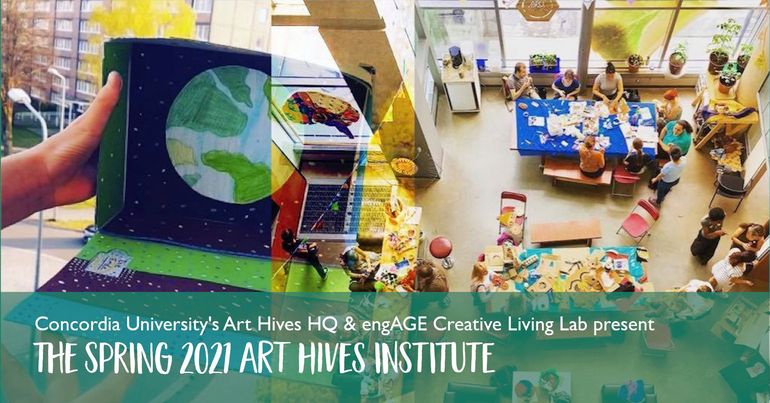 (En français à la suite) 
The Spring 2021 Art Hives Institute: from Social Isolation to Circles of Care A 3-Part Online Training Series
Concordia University's Art Hives HQ & engAGE Creative Living Lab present:
THE SPRING 2021 ART HIVES INSTITUTE: From Social Isolation to Circles of Care-
A 3-Part Online Training Series
March 19th, 26th & April 2nd, 2021
TAKE ALL THREE SESSIONS OR PICK AND CHOOSE! 150$ / day or 350$ for all three
**Contact us to inquire about scholarship opportunities if cost is a barrier to your participation.
REGISTER HERE: https://www.eventbrite.ca/e/the-art-hives-spring-2021-institute-a-3-part-online-training-series-tickets-137311551547
Are you imagining creative ways of responding to social isolation in your community (in-person or online)?
Are you working in an existing art hive, living lab, (or like-minded project) and would like to improve its functioning or expand its activities?
Are you looking to connect with people who share similar dreams and are ready to make them happen?
This training is just for you!
SESSION OVERVIEW
1. Friday March 19th:
9-12 am (in French) OR 1-4 pm (in English) Art Hives 101 / Ruches d'Art 101
Learn about (or revisit) Art Hives principles, methods, and founding theories.
2. Friday March 26th: 9-12 am Envisioning Circles of Care : an arts-based session for setting intentions, bearing witness and considering sustainability and mutual care 
AND 1-4 pm Breaking Social Isolation in an Aging Population: an overview of research and innovative and traditional solutions that work(Both sessions in English with live interpretation in French).
3. Friday April 2nd: 9 am – 4 pm (with lunch break from 12-1)Spurring into Action: getting new ideas off the ground and deepening existing initiatives.
Practical considerations: funding and budgeting, legal structures, outreach and more. (Flexible format allowing for skillsharing and networking, according to interests and language spoken).
The Art Hives Institute is a 3-day experiential intensive teaching the theory, methods and materials to create inclusive public homeplaces which bring multiple opportunities for community building and healing through art making, dialogue and skillsharing into neighbourhoods and online spaces.
This online training series is offered by Janis Timm-Bottos PhD, ATR-BC, PT and Rachel Chainey MA, ATPQ of Concordia University's Art Hives HQ & engAGE Living Lab, in collaboration with many guest presenters (TBA). 
The flexible design of this year's Art Hives Institute invites in practitioners of all experience levels, from just curious to well seasoned. 
No prerequisite courses are needed. Previous experience in a community art studio or living lab setting is preferable.
Please contact us if you have any question: rachel.chainey@concordia.ca.
-------------------------
Les Ruches d'Art de l'université Concordia et le Living Lab Créatif engAGE présentent : 
L'Institut des Ruches d'Art Édition Printemps 2021 :
De l'Isolement Social aux Cercles de Soin 
Une formation en ligne en trois parties.
Les vendredis 19 mars, 26 mars et 2 avril
SUIVEZ TOUS LES ATELIERS OU UN SEUL AU CHOIX! 
150$ par jour ou 350$ pour les trois. 
**Contactez-nous pour des opportunités de bourse si le coût est un obstacle à votre participation. 
INSCRIVEZ-VOUS ICI: https://www.eventbrite.ca/e/the-art-hives-spring-2021-institute-a-3-part-online-training-series-tickets-137311551547
Imaginez-vous des moyens créatifs de répondre à l'isolement social dans votre communauté (en personne ou en ligne)? Travaillez-vous dans une ruche d'art existante, un laboratoire vivant (ou un projet similaire) et souhaitez améliorer son fonctionnement ou développer ses activités? Cherchez-vous à vous relier avec des personnes qui partagent des rêves similaires et sont prêtes à les réaliser? 
Cette formation est faite pour vous! 
APERÇU DES ATELIERS : 
1. Vendredi 19 mars: 
9h-12h (en français) OU 13h-16h (en anglais) 
Art Hives 101 / Ruches d'Art 101 
Découvrez (ou revisitez) les principes, les méthodes et les théories fondatrices des Ruches d'Art. 
2. Vendredi 26 mars: 9h-12h 
Imaginer nos « Cercles de Soins » (Circles of Care) : une session de création artistique et de réflexion pour définir nos intentions, être témoins de celles des autres, et envisager la durabilité et l'entraide à travers nos projets
ET 13h-16h Briser l'isolement social dans une population vieillissante: un aperçu de la recherche et de solutions traditionnelles qui fonctionnent (les deux sessions seront en anglais avec interprétation en direct en français). 
3. Vendredi 2 avril: de 9 h à 16 h (avec une pause midi de 12h à 13h)
Cheminer vers l'action: faire décoller de nouvelles idées et approfondir les initiatives existantes.
Considérations pratiques: financement et budget, structures juridiques, promotion, et plus encore. (Format flexible permettant le partage des savoirs-faire et le réseautage, selon les intérêts et la langue parlée). 
L'Institut des Ruches d'Art est une formation expérientielle intensive de 3 jours sur la théorie, les méthodes et les matériaux pour créer des tiers-lieux inclusifs dans les espaces publics, qui offrent de multiples opportunités de mieux-être et de développement communautaires, à travers à la création artistique, le dialogue et le partage des savoirs-faire dans les quartiers et les espaces en ligne.
 
Cette série de cours en ligne est offerte par Janis Timm-Bottos PhD, ATR-BC, PT et Rachel Chainey MA, ATPQ du Art Hives HQ & engAGE Living Lab de l'Université Concordia, en collaboration avec de nombreux.ses collaborateurs/trices invité.e.s (TBA). 
Le design flexible de l'Institut des Ruches d'Art de cette année invite les praticien.ne.s de tous niveaux d'expérience, des curieux.ses au plus expérimenté.e.s. Aucun cours préalable n'est nécessaire. Une expérience antérieure dans un studio d'art communautaire ou dans un laboratoire vivant est préférable. 
Contactez-nous si vous avez des questions: rachel.chainey@concordia.ca