Submitted by

arthives_hq_admin

on Thu, 05/11/2023 - 13:07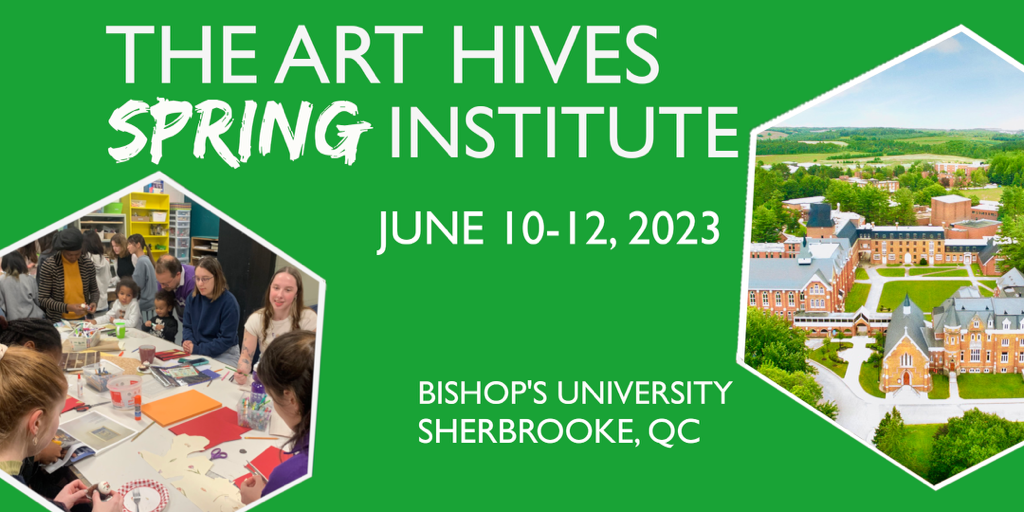 Date:
Saturday, June 10, 2023 - 09:00

to

Monday, June 12, 2023 - 05:00
THE 2023 ART HIVES SPRING INSTITUTE
SHERBROOKE, QUEBEC
(EN FRANÇAIS À LA SUITE)
Are you thinking about starting an art hive in your community?
Are you working in an existing art hive and would like to improve its functioning or expand its activities?
Are you looking to connect with people who share your dream?
This training is just for you!
After these 3 days, you will take away:
A new network of passionate colleagues and the many skills, ideas, tools and art making we will have shared together.
An overview of different art hives models (legal structures, organizational models) and concrete ways to get them off the ground and sustain them.
A deepened understanding of the values and philosophical and historical inspirations of Art Hives, facilitation approach, and impact of these arts-based third spaces on individuals and communities.
The Art Hives Institute is a 3-day experiential intensive teaching the theory, methods and materials to create inclusive public home places which bring multiple opportunities for community building and healing through art making, dialogue and skillsharing into neighbourhoods.
In collaboration with the Art Lab of the Foreman Art Gallery at Bishop's University, this training will be offered by Dr. Janis Timm-Bottos, Fine Arts professor at Concordia University and Bishop's University, and Rachel Chainey, Art Hives Headquarters Coordinator, in collaboration with diverse local Art Hives practitioners.
The training is designed for professionals already working in an Art Hive setting, or serious about getting started with this type of third space. While covering the theoretical underpinnings and practical aspects, it will also provide plenty of time for group discussion, skillsharing, site visits and hands-on community art studio sessions.
No prerequisite courses are needed. Previous experience participating in a community art studio is preferable.
Get your tickets at Eventbrite 
Please contact us if you have any question: rachel.chainey@concordia.ca.
About the Venue:
Bishop's University is located on the traditional and unceded territory of the Abenaki people.
Pm8wzowinnoak Bishop's kchi adalagakidimek aoak kzalziwi w8banakii aln8baïkik.
The Foreman Art Gallery's COMMUNITY ART LAB (ArtLab) positions itself on the cutting edge between art, education, and community development with the goal of exploring how these worlds collide and interact with one another. Through its interventions, satellite activities, and public events (including 3 weekly art hives), the Laboratory stimulates exchanges and discussions in order to disrupt the hierarchy of knowledge and to enrich community life.
The FOREMAN ART GALLERY of Bishop's University is a space for thinking and producing knowledge about contemporary art and its relation to the global and local communities we share. The Gallery strives for excellence as it researches, exhibits, and documents contemporary art by emerging and mid-career professional artists in innovative curated contexts. These exhibitions are presented with the objective of provoking public debate on cultural and social issues for an expanding audience that includes our local University community, a larger art community within Quebec and Canada, as well as broad and diverse general and virtual audiences.
Information about accessibility will be posted asap.
_______________________________________________________
L'INSTITUT DES RUCHES D'ART, PRINTEMPS 2023
SHERBROOKE, QUEBEC
*Veuillez noter : l'événement sera offert en anglais et une traduction chuchotée vers le français sera offerte.
Vous envisagez de créer une ruche d'art dans votre communauté ?
Vous travaillez dans une ruche d'art existante et vous aimeriez améliorer son fonctionnement ou étendre ses activités ?
Vous cherchez à entrer en contact avec des personnes qui partagent votre rêve ?
Cette formation est faite pour vous !
Après ces 3 jours, vous aurez acquis :
Un nouveau réseau de collègues passionnés et les nombreuses compétences, idées, outils et créations artistiques que nous aurons partagés ensemble.
Une vue d'ensemble des différents modèles de ruches d'art (structures juridiques, modèles organisationnels) et des façons concrètes de les démarrer et d'assurer leur vitalité et leur durabilité.
Une compréhension approfondie des valeurs et des inspirations philosophiques et historiques des Ruches d'Art, de l'approche de facilitation, et de l'impact de ces tiers-lieux créatifs sur les individus et les communautés.
L'Institut des Ruches d'Art est une formation intensive de trois jours qui enseigne la théorie, les méthodes, et le matériel nécessaires à la création de tiers-lieux publics et inclusifs qui offrent de multiples possibilités de renforcement de la communauté et de guérison par la création artistique, le dialogue et le partage des compétences dans les quartiers.
En collaboration avec le Art Lab de la Galerie d'art Foreman de l'Université Bishop, cette formation sera offerte par Dr. Janis Timm-Bottos, professeure à la faculté des beaux-arts de l'Université Concordia et à l'Université Bishop, et Rachel Chainey, coordonnatrice du siège social des Ruches d'Art, en collaboration avec divers praticien.nes de Ruches d'Art locales.
La formation est conçue pour les professionnels.les qui travaillent déjà dans une Ruche d'art, ou qui souhaitent sérieusement se lancer dans ce type de pratique publique. Tout en couvrant les fondements théoriques et les aspects pratiques, la formation offrira amplement de temps pour les discussions de groupe, le réseautage, le partage des compétences, les visites de Ruches d'Art de la région, et les moments de création.
Aucun cours pré-requis n'est exigé, mais une expérience préalable de participation à un atelier d'art communautaire est préférable.
Achetez vos billets sur Eventbrite
N'hésitez pas à nous contacter si vous avez des questions : rachel.chainey@concordia.ca.
À propos du lieu de la formation :
L'Université Bishop's est située sur le territoire traditionnel et non cédé des Abénaquis.
Pm8wzowinnoak Bishop's kchi adalagakidimek aoak kzalziwi w8banakii aln8baïkik.
Le LABORATOIRE D'ART COMMUNAUTAIRE (ArtLab) de la Galerie d'art Foreman se positionne à l'avant-garde entre l'art, l'éducation et le développement communautaire dans le but d'explorer la façon dont ces mondes s'entrechoquent et interagissent les uns avec les autres. Par ses interventions, ses activités satellites et ses événements publics (dont trois ruches hebdomadaires), le laboratoire stimule les échanges et les discussions afin de bouleverser la hiérarchie des connaissances et d'enrichir la vie de la communauté.
La FOREMAN ART GALLERY de l'Université Bishop's est un espace de réflexion et de production de connaissances sur l'art contemporain et sa relation avec les communautés mondiales et locales que nous partageons. La galerie vise l'excellence dans ses recherches, ses expositions et ses activités.
Information sur l'accessibilité à venir