Submitted by

Rachel @ Art Hi...

on Wed, 02/10/2021 - 12:51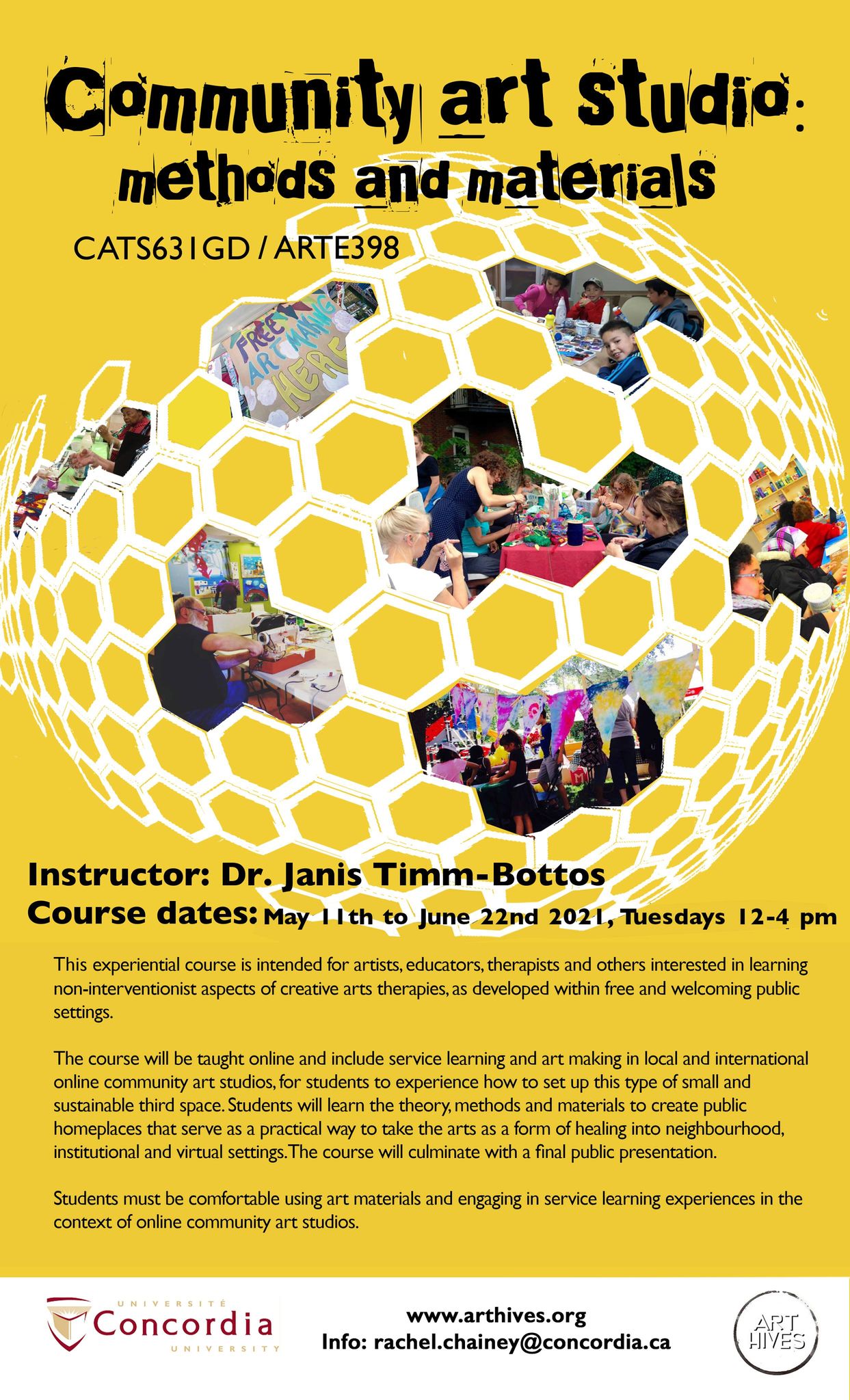 Community Art Studio: Methods and Materials
CATS631 / ARTE398
Instructor: Janis Timm-Bottos
Course dates: Tuesdays 12-4 pm, May 11th to June 22nd 2021
3-credit course available for graduate students as well as undergraduates in their final year. 
Taught online on Zoom. 
Course Description: 
This experiential course is intended for artists, educators, therapists and others interested in learning non-interventionist aspects of creative arts therapies, as developed within free and welcoming public settings. 
The course will be taught online and include service learning and art making in local and international online community art studios, for students to experience how to set up this type of small and sustainable third space. Students will learn the theory, methods and materials to create public homeplaces that serve as a practical way to take the arts as a form of healing into neighbourhood, institutional and virtual settings. 
Students must be comfortable using art materials and engaging in service learning experiences in the context of online community art studios. 
Firmly rooted in the Psychologies of Liberation (Watkins & Shulman, 2008), public practice creative arts therapies as developed at Concordia University invites all students to begin to examine their own social location as it relates to privilege, power, public health, and the oppressive forces of colonialism and gentrification at play in their communities. Throughout the course, students undertake important steps of a journey, deepening their understanding of these concepts and their personal relationship to them, through art making and the reflective practice of field notes. The course culminates with a public presentation of the students' final projects, attended by community members, academic and other partners, and funders.