Submitted by

arthives_hq_admin

on Fri, 12/16/2022 - 11:23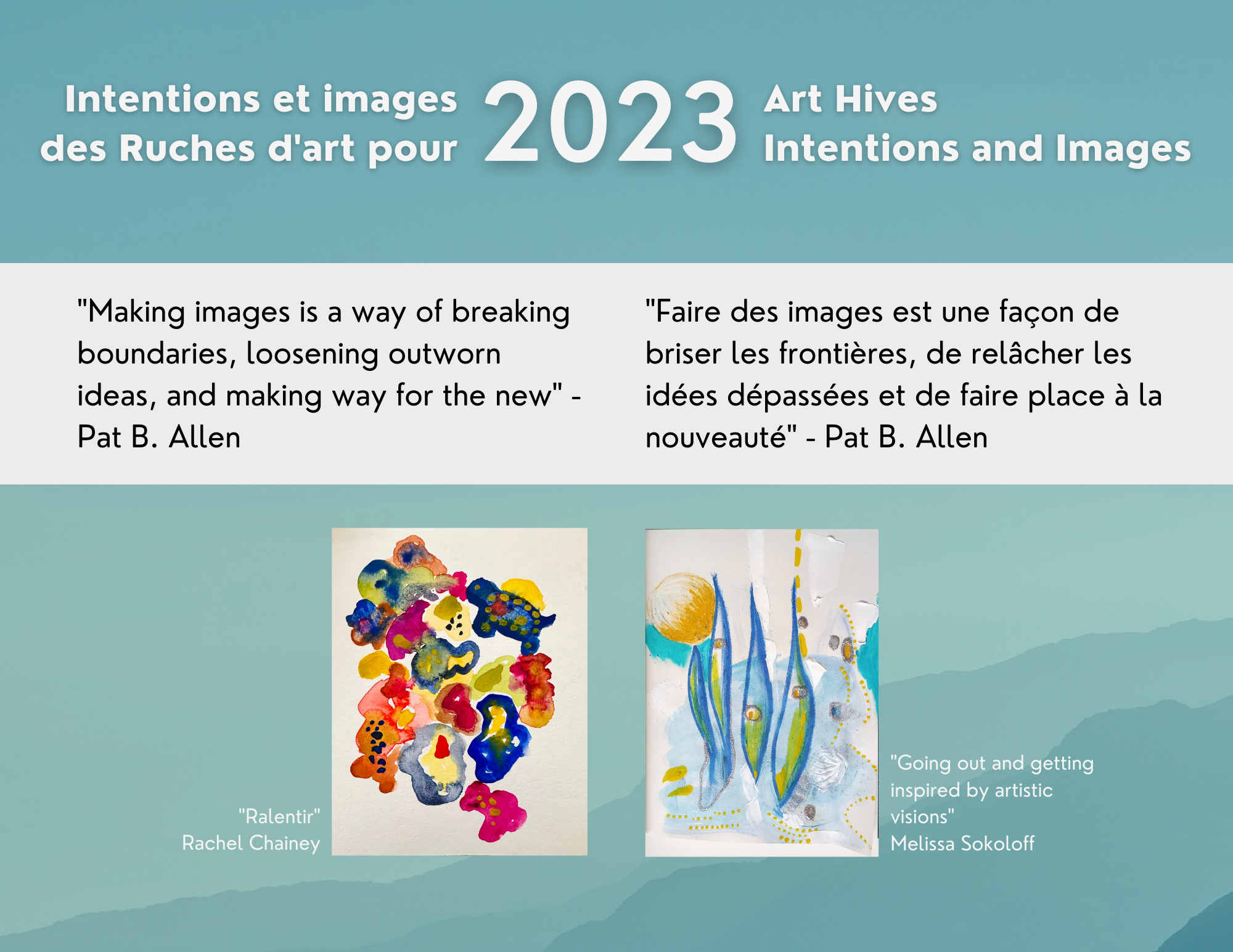 Date:
Thursday, December 15, 2022 - 09:00

to

Tuesday, January 31, 2023 - 23:00
Art Hives Intentions and Images for 2023
Making images is a way of breaking boundaries, loosening outworn ideas, and making way for the new

Pat B. Allen.
We invite you to start the new year by setting and sharing the intentions for your art hive with us.
What are the things you would like to continue seeing happening?
What areas need more "water," "light," or "soil" to see growth or which ones might need a trim?
You may share these as text, poem, song, or image, such as a collage, painting, drawing, or mixed media.
Once completed, please send us a picture of what you have created to monica.escobedo@concordia.ca.
Your artwork might be accompanied by text or a list of your intentions.
Please remember to include the name of your art hive.
We will compile all your contributions into one article published on this website at the end of January 2023 as a way to start the year.
We can't wait to see what you will create.
https://www.patballen.com/pages/process.html
Your images are unique and important and belong to the world, for you know something the world needs. The knowledge that comes through your images cannot arrive in any other way. What are you waiting for?

Pat B. Allen. Art is a Way of Knowing.
Intentions et images de Ruches d'Art pour 2023
Faire des images est une façon de briser les frontières, de relâcher les idées dépassées et de faire place à la nouveauté

Pat B. Allen.
Nous vous invitons à commencer la nouvelle année en définissant et en partageant avec nous les intentions pour votre ruche d'art.
Quelles sont les choses que vous aimeriez voir continuer?
Quels sont les endroits qui ont besoin de plus d'"eau", de "lumière" ou de "terre" pour voir une croissance?
Ces intentions peuvent être sous forme de texte, poème, chanson ou image, comme un collage, une peinture, un dessin ou des techniques mixtes.
Une fois terminé, envoyez-nous SVP une photo de ce que vous avez créé a monica.escobedo@concordia.ca.
Votre œuvre peut être accompagnée d'un texte ou d'une liste de vos intentions. N'oubliez pas d'indiquer le nom de votre ruche d'art.
Nous compilerons toutes vos contributions dans un article publié sur notre site web, www.arthives.org / www. lesruchesdart.org, à la fin du mois de janvier 2023, comme une façon de commencer l'année.
Nous avons hâte de voir ce que vous allez créer!
https://www.patballen.com/pages/process.html
Vos images sont uniques et importantes et appartiennent au monde, car vous savez quelque chose dont le monde a besoin. La connaissance qui passe par vos images ne peut arriver d'aucune autre manière. Qu'attendez-vous ?

Pat B. Allen. Art is a Way of Knowing.