Submitted by

Rachel @ Art Hi...

on Sun, 06/21/2015 - 02:44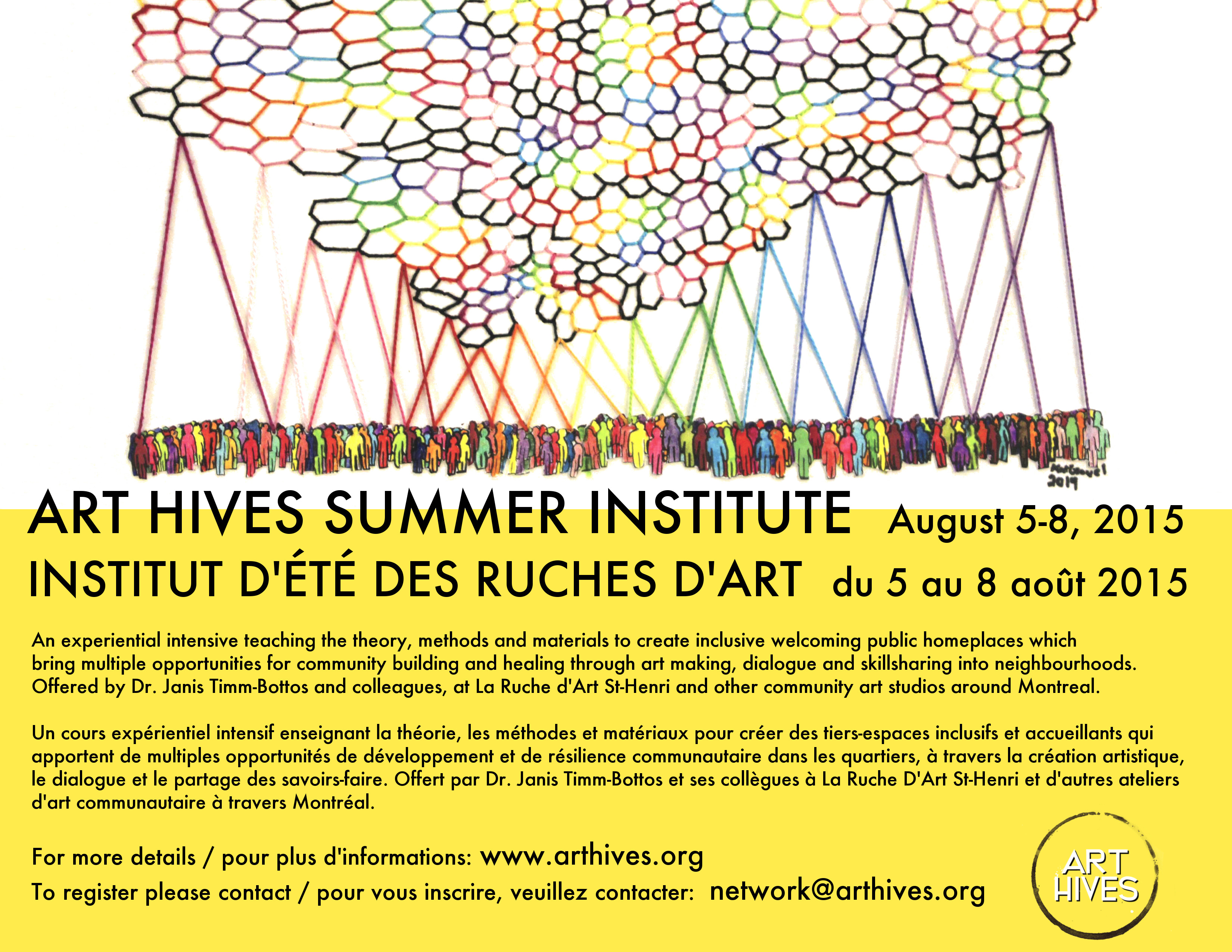 Date:
Wednesday, August 5, 2015 - 09:00

to

Saturday, August 8, 2015 - 16:00
A 4-day experiential intensive teaching the theory, methods and materials to create inclusive public home places which bring multiple opportunities for community building and healing through art making, dialogue and skillsharing into neighbourhoods.This bilingual (EN/FR) course, offered by Dr. Janis Timm-Bottos, professor at Concordia University, in collaboration with diverse Art Hives practitioners, is designed for professionals already working in an Art Hive setting or serious about getting started. While covering the theoretical underpinnings, it will also provide plenty of time for group discussion and co-creation, Art Hives site visits and hands-on open studio sessions.
No prerequisite courses are needed. Previous experience in a community art studio is preferable.
Schedule: Wednesday August 5 to Saturday August 8 2015, 9:00-4:00, with optional workshops or events on some evenings.
Location: La Ruche d'Art St-Henri, 4525 St-Jacques, Montreal, QC H4C 1K3
Cost: 300$ + applicable taxes (All funds raised go to support the development of the national art hives initiative).
To register of for more information: network@arthives.org
//
Un cours expérientiel intensif de 4 jours enseignant la théorie, les méthodes et les matériaux nécessaires pour créer des tiers-espaces inclusifs qui apportent de multiples opportunités de développement et de résilience communautaire dans les quartiers, à travers la création artistique, le dialogue et le partage des savoir-faire. Ce cours bilingue (FR/EN) sera offert par Dr. Janis Timm-Bottos, professeur à l'Université Concordia, avec la collaboration de praticien(ne)s de diverses Ruches d'Art, est à l'intention des professionnel(le)s qui travaillent déjà dans un contexte de Ruche d'Art ou qui songent sérieusement à démarrer ce type de projet. Tout en couvrant les bases théoriques, ce cours offrira également aux participant(e)s du temps pour la discussion et la co-création en groupe, la visite de différentes Ruches d'Art, et des séances de création libre.
Aucun cours préalable n'est requis, mais de l'expérience en art communautaire est souhaitable.
Horaire: du mercredi 5 août au samedi 8 août 2015, de 9h à 16h, avec ateliers ou événements optionnels certains soirs.
Emplacement: La Ruche d'Art St-Henri, 4525 St-Jacques, Montréal, QC H4C 1K3.
Coût: 300$ + taxes en vigueur (tous les fonds ammassés serviront au développement de l'initiative nationale des Ruches d'Art).
Pour s'inscrire ou pour plus d'information: network@arthives.org