Submitted by

arthives_hq_admin

on Mon, 09/04/2023 - 18:13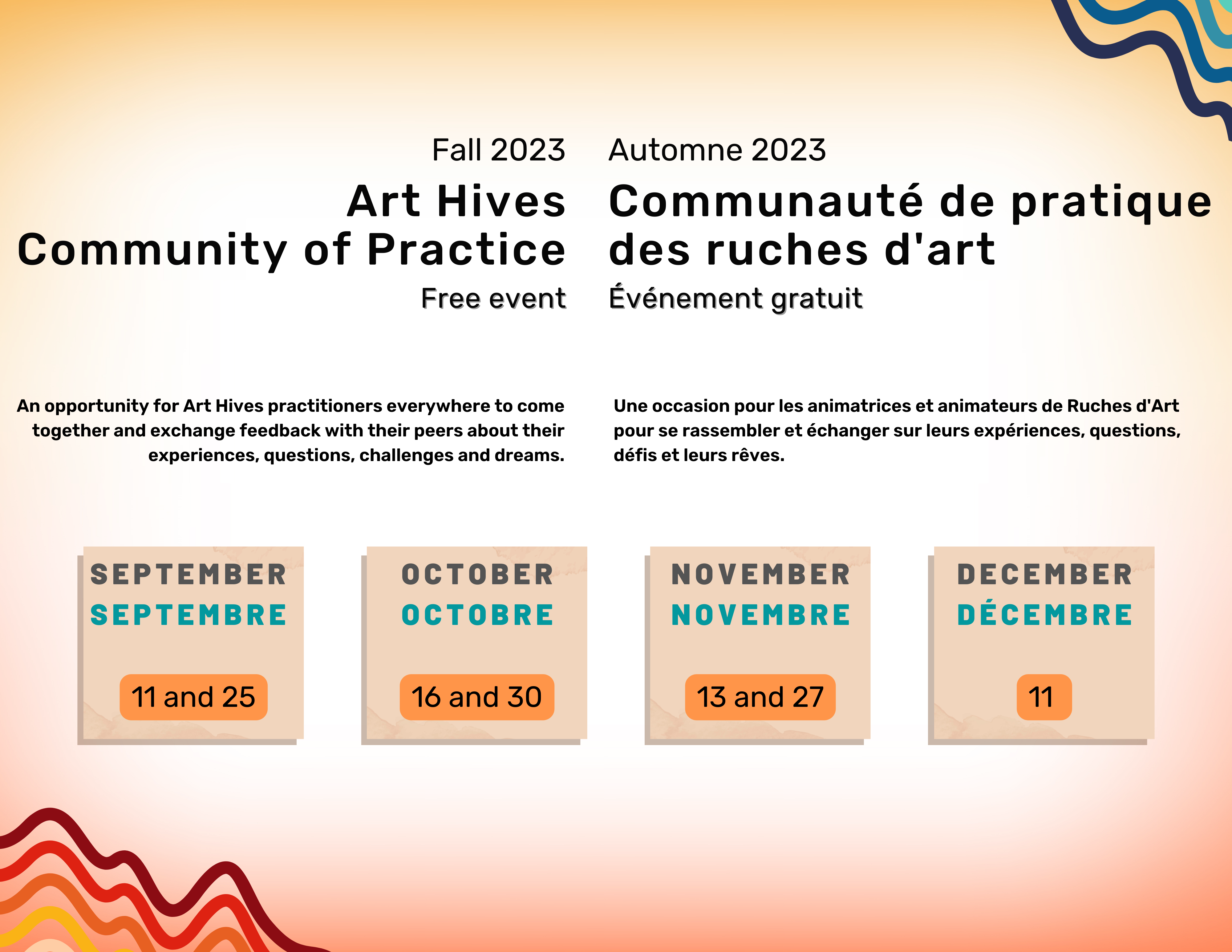 Date:
Monday, September 11, 2023 - 10:00

to

Monday, December 11, 2023 - 12:00
What is the Art Hives Community of Practice?
This is a free and public online event hosted by the Art Hives Headquarters.
An opportunity for Art Hives practitioners everywhere to come together and exchange feedback with their peers about their experiences, questions, concerns, and dreams.
If you are thinking about starting your own Art Hive, this is an excellent place to connect with the community and get answers to your questions.
Who can join?
Whether you are a seasoned art hive facilitator or have just started to think about your own art hive, this meeting is for you.  Everyone is welcome.
When is the next meeting?
These meetings are held on Mondays, from 10am to 12pm ET (Montreal time)
Fall 2023
September 11 and 25
October 16 and 30
November 13 and 27
December 11
How to join the meeting?
All meetings are held online on the Zoom Platform
Meeting ID: 273 363 2695
Passcode: 552656
You can find the Community of Practice events directly on the Art Hives Facebook page.
Looking forward to seeing you soon.
---
Qu'est-ce que la communauté de pratique de Ruches d'art ?
Il s'agit d'un événement en ligne gratuit et public organisé par le siège des Ruches d'art.
Il donne l'occasion aux praticiens des Ruches d'Art de se réunir et d'échanger avec leurs pairs sur leurs expériences, leurs questions, leurs préoccupations et leurs rêves.
Si vous envisagez de créer votre propre Ruche d'art, c'est un excellent endroit pour entrer en contact avec la communauté et obtenir des réponses à vos questions.
Qui peut participer ?
Que vous soyez un animateur expérimenté ou que vous commenciez tout juste à penser à votre propre ruche, cette réunion est pour vous.  Tout le monde est le bienvenu.
Quand a lieu la prochaine réunion ?
Ces réunions ont lieu les lundis, de 10 h à 12 h HE (heure de Montréal).
Automne 2023
Septembre 11 et 25
Octobre 16 et 30
Novembre 13 et 27
Décembre 11
Comment se joindre à la réunion ?
Toutes les réunions se déroulent en ligne sur la plateforme Zoom
Meeting ID: 273 363 2695
Mot de passe: 552656
Vous pouvez trouver les événements de la Communauté de pratique directement sur la page Facebook des Ruches d'art.
Au plaisir de vous voir bientôt !