Submitted by

arthives_hq_admin

on Tue, 06/25/2019 - 14:27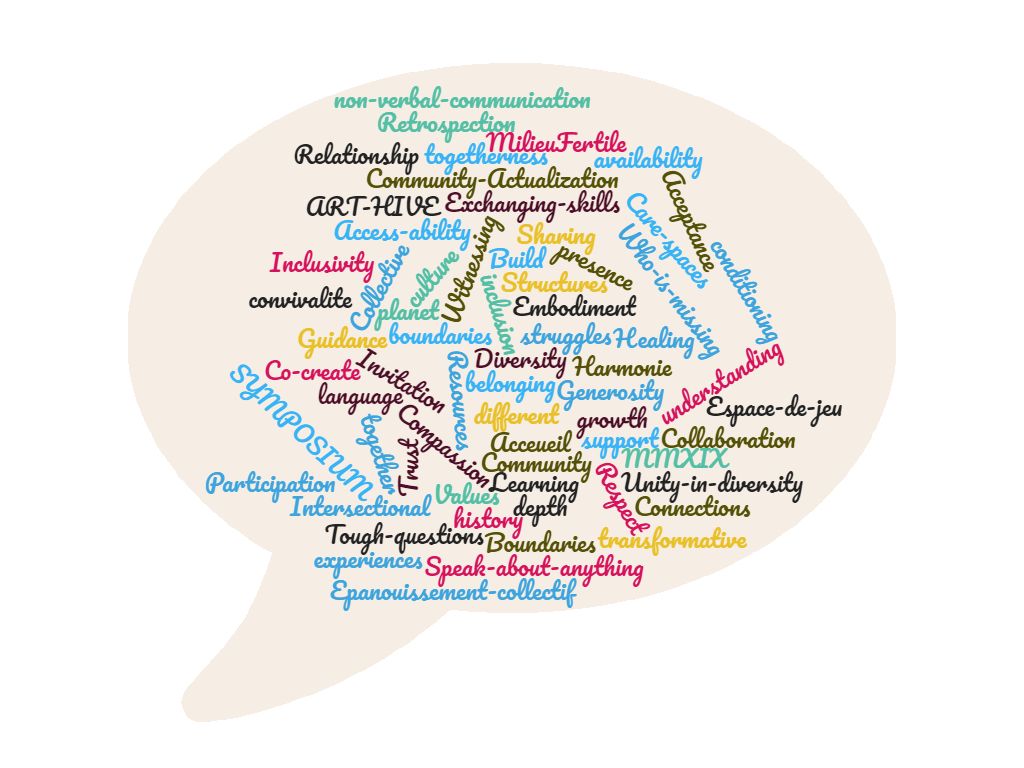 By Momo
Personal reflections after the 2019 Art Hives' Symposium
"Witnessing", "dreams", "compassion", "participation", "unity-in-diversity", "épanouissement", "togetherness", "healing", "projects", "acceptance", "depth", "boundaries", "care-spaces", "tough questions"...
On May 31st and June 1st, we came together as an art hive community. 130 visitors from all over Canada, the US, and the World. 130 artists, teachers, students, scientists, human "bee-ings".  We all came with different ideas, expectations, burning questions and concerns.
Janis set the tone for the journey we were about to embark upon together, she gifted us with a colorful story about bees and their waggle dance, it certainly sparked curiosity. And although we tried, we could not persuade her to demonstrate it for us.
I've might have been still trying to imagine the dance when I heard this question:
What is your gift?
And through the discussions, stories and conversations, the question changed, got bigger, more important: What becomes possible for community wellness, when we discover and practice our gifts together? When we become aware that we are all "the same height"
We are all the same height? What does that mean? As philip otiohkwa deering, kanien'kehá:ka elder explained in his story, we are all equals, we all matter, not one is more important than the other.
As the symposium went on, we danced our own dances with each other, met new people, reconnected with old acquaintances and friends, drew and painted together, and as promised, got our hands dirty with clay. Without a doubt, our creative side shone, we also engaged in conversations, and heard uplifting, surprising, funny and difficult stories. We respectfully listened to each other's easy and not so easy questions. And we deepened the understanding and necessity of our gifts and the tremendous impact this can make in the communities we live.
Just yesterday, at the public follow-up Sense Making session, I was going through some of the notes from the Symposium. I was instantly drawn to the pile of colorful paper. As I started to read, the words brought me right back to the symposium, to the conversations I had with so many incredible people. Words that enclose how the Art Hives matter to us, to our communities and to our Planet. All those words represent possibilities and responsibilities, what could be achieved and why it must be achieved. All the things that are possible now that we are aware that WE ARE ALL THE SAME HEIGHT!
After 2 days together at the 2019 Art Hive Symposium, what became possible for you?
The Art Hives Headquarters' team would love to hear your stories of possibility in any way you would like to share them.
...if you are still curious about the famous waggle dance, you can watch it here.  Keep on dancing!!!
Gallery of Images: