Submitted by

Rachel @ Art Hi...

on Sat, 03/07/2015 - 02:42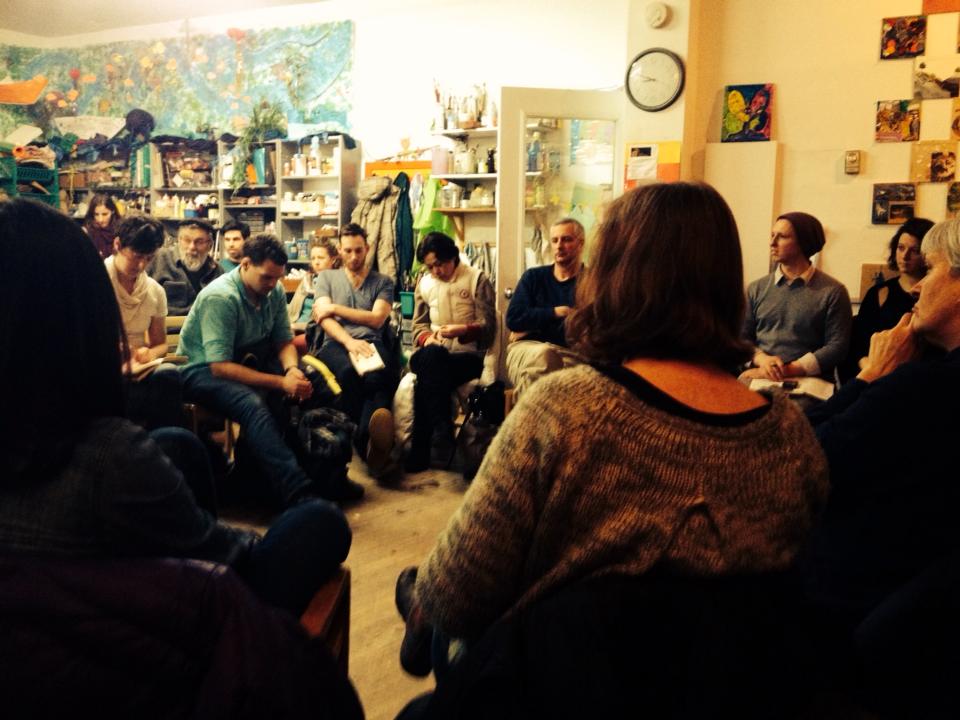 À la Ruche d'Art, lundi dernier, en compagnie d'une soixantaine d'autre personnes de tous horizons, j'ai participé à une conversation publique, organisée par L'Université autrement: dans les Cafés, portant sur les Ruches d'Art et les makerspaces et leur rôle dans l'innovation sociale. 
J'ai récolté en vrac des fragments de conversation et d'idées qui parlent les multiples facettes de nos espaces créatifs collectifs et suggèrent des pistes pour leur continuité. Je vous partage ma récolte d'inspiration ici, j'espère qu'elle vous inspirera en retour:
importance des espaces sans programmation, pour laisser émerger la créativité 
invitation implicite à contribuer
nous créons de nouvelles structures, comment soutenir leur existence dans la société?
nouvelles façons créatives de rencontrer les défis de notre quartier
innovation sociale: collaborations inusitées à travers les disciplines, inviter des voix moins souvent entendues à la table.
rôles dans la Ruche: modélisation de comportements créatifs et bienveillants , responsabilité partagée de la sécurité, garder ses yeux et son coeur ouvert
innovation sociale: inclure des personnes qui ont des opinions et des luttes différentes des nôtres
être ouvert et inclusif dans les processus de prise de décision aussi
se réapproprier notre pouvoir en tant que peuple
nos espaces sont le contraire de la peur et de l'isolement
les universités sont d'excitantes bulles d'idées, de projets, de créativité. Les Ruches d'Art et Makerspaces entretiennent cet esprit à l'extérieur de l'université
rôle de l'intergénérationalité. Les enfants comme leaders et inspiration: ils n'ont pas de blocage créatif
importance de la créativité dans l'apprentissage, expériences d'apprentissage auto-dirigées
innovation sociale: des gens qui travaillent avec des gens à faire les choses différemment
fabrication mutuelle
comment garder l'authenticité et l'inclusivité d'un espace lorsque les personnes plus éduquées/ plus fortunées commencent à l'investir?
créer des ponts entre les rôles de genre dans les espaces collectifs créatifs
espaces pour mettre au monde des idées, les propager par l'action plutôt que par le discours
innovation sociale: besoins ancestraux auxquels on répond de façon innovante
rôle des artistes: pollinisation croisée des idées
accéder au potentiel en chaque personne qui n'attend qu'à être actualisé 
espaces de résistance et de résilience
innovation sociale: faire quelque chose à partir de rien
espaces qui permettent de construire un nouveau rapport à l'Autre
se donner accès, se réapproprier la technologie et les moyens de production
économie du don, du partage. Quel est votre cadeau au monde?
besoin de créer des liens et des collaborations plus intentionnelles entre les Makerspaces et les Ruches d'Art
Avez-vous participé à cette conversation? Qu'avez-vous retenu? Et si vous n'y étiez pas, qu'auriez-vous envie de rajouter à cette liste?
--------------------------------------------------
Last Monday, La Ruche d'Art (the Art Hive) hosted a public conversation, organized by University of the Streets Café, about Art Hives & Makerspaces and how they play a role in social innovation. 
I harvested conversation and idea fragments, that speak about the multiple facets of our collective creative spaces, and suggest pathways for their continuation. Here I share my harvest of inspirations with you, in hopes that you are in turn inspired:
importance of unprogrammed spaces for creativity to emerge
implicit invitation to contribute
we are creating new structures, how to sustain them in society?
new creative ways to meet the challenges in our neighbourhood
social innovation: unusual collaborations across disciplines, inviting less heard voices to the table
roles in the Hive: role modeling of kind and creative behaviours, shared responsibility for safety, keeping our eyes and heart open
social innovation: include people with different opinions and struggles than our own
be open and inclusive in decision making processes as well
take back our grassroots power
our spaces are the opposite of fear and isolation
universities are exhilarating bubbles of ideas, projects, creativity. Art Hives and Makerspaces keep this spirit going outside the university
role of intergenerationality. Kids as leaders and inspiration: they are not blocked creatively
importance of creativity in learning, self-directed learning experiences 
social innovation: people working with people to do things differently
mutual making
how to remain inclusive and authentic when more educated/wealthy folks start investing a grassroots space? 
bridging gender roles in collective creative spaces
spaces to put ideas out into the world, propagate them through action rather than discourse 
social innovation: ancient needs answered in innovative ways
role of artists: cross-pollinisation of ideas
access potential waiting to happen in each of us
spaces of resistance and resilience
social innovation: make something out of nothing
spaces that allow to build a new relationship to the Other
give access, take back technology and means of production
gift, sharing economies. What is your gift to the world?
need to create more intentional collaborations between Art Hives and Makerspaces
Did you take part in this conversation? What aspects of it stayed with you? And if you weren't there, what would you feel like adding to this list?
Gallery of Images: