Submitted by

Rachel @ Art Hi...

on Thu, 12/22/2016 - 08:55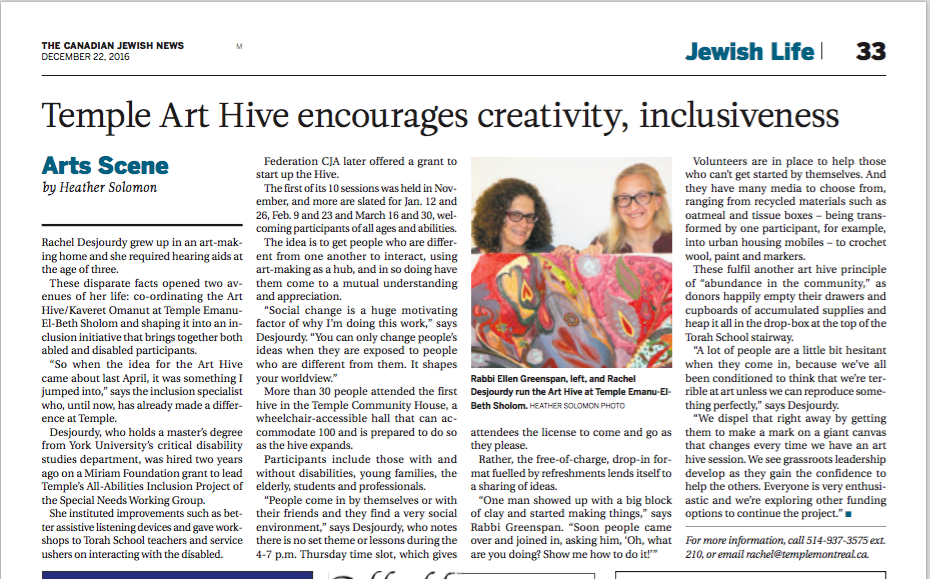 Jewish Life 33 Temple Art Hive encourages creativity, inclusiveness
THE CANADIAN JEWISH NEWS M DECEMBER 22, 2016
Arts Scene
by Heather Solomon
Rachel Desjourdy grew up in an art-mak- ing home and she required hearing aids at the age of three.
These disparate facts opened two av- enues of her life: co-ordinating the Art Hive/Kaveret Omanut at Temple Emanu- El-Beth Sholom and shaping it into an in- clusion initiative that brings together both abled and disabled participants.
"So when the idea for the Art Hive came about last April, it was something I jumped into," says the inclusion specialist who, until now, has already made a differ- ence at Temple.
Desjourdy, who holds a master's degree from York University's critical disability studies department, was hired two years ago on a Miriam Foundation grant to lead Temple's All-Abilities Inclusion Project of the Special Needs Working Group.
She instituted improvements such as bet- ter assistive listening devices and gave work- shops to Torah School teachers and service ushers on interacting with the disabled.
Federation CJA later offered a grant to start up the Hive.
The first of its 10 sessions was held in Nov- ember, and more are slated for Jan. 12 and 26, Feb. 9 and 23 and March 16 and 30, wel- coming participants of all ages and abilities.
The idea is to get people who are differ- ent from one another to interact, using art-making as a hub, and in so doing have them come to a mutual understanding and appreciation.
"Social change is a huge motivating factor of why I'm doing this work," says Desjourdy. "You can only change people's ideas when they are exposed to people who are different from them. It shapes your worldview."
More than 30 people attended the first hive in the Temple Community House, a wheelchair-accessible hall that can ac- commodate 100 and is prepared to do so as the hive expands.
Participants include those with and without disabilities, young families, the elderly, students and professionals.
"People come in by themselves or with their friends and they find a very social environment," says Desjourdy, who notes there is no set theme or lessons during the 4-7 p.m. Thursday time slot, which gives
Rabbi Ellen Greenspan, left, and Rachel Desjourdy run the Art Hive at Temple Emanu-El- Beth Sholom. HEatHER SoloMon pHoto
attendees the license to come and go as they please.
Rather, the free-of-charge, drop-in for- mat fuelled by refreshments lends itself to a sharing of ideas.
"One man showed up with a big block of clay and started making things," says Rabbi Greenspan. "Soon people came over and joined in, asking him, 'Oh, what are you doing? Show me how to do it!'"
Volunteers are in place to help those who can't get started by themselves. And they have many media to choose from, ranging from recycled materials such as oatmeal and tissue boxes – being trans- formed by one participant, for example, into urban housing mobiles – to crochet wool, paint and markers.
These fulfil another art hive principle of "abundance in the community," as donors happily empty their drawers and cupboards of accumulated supplies and heap it all in the drop-box at the top of the Torah School stairway.
"A lot of people are a little bit hesitant when they come in, because we've all been conditioned to think that we're ter- rible at art unless we can reproduce some- thing perfectly," says Desjourdy.
"We dispel that right away by getting them to make a mark on a giant canvas that changes every time we have an art hive session. We see grassroots leadership develop as they gain the confidence to help the others. Everyone is very enthusi- astic and we're exploring other funding options to continue the project." n
For more information, call 514-937-3575 ext. 210, or email rachel@templemontreal.ca.