Submitted by

Janis

on Sun, 10/19/2014 - 11:10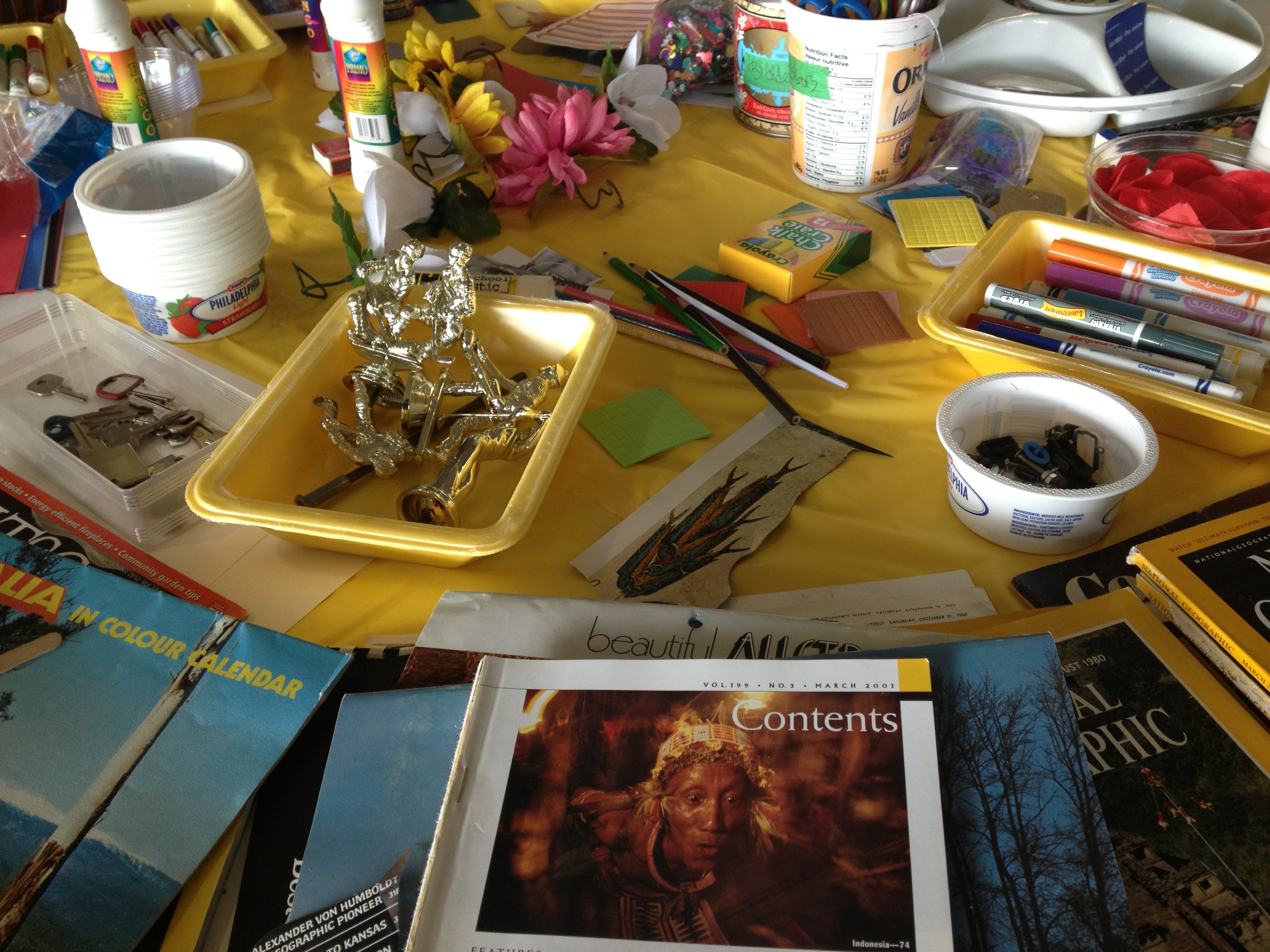 Leo and I recently joined 500 other participants, mainly academics, at the 15th Annual Engagement Scholarship Consortium conference hosted by the University of Alberta at the Edmonton Shaw Conference Centre (October 6-8, 2014). We were fortunate to have a strong local team that took on the design, set-up, and facilitation of a pop-up art hive for the two-day conference. This extended our message quite a bit as the team welcomed conference goers through a handmade arch of branches to a banquet of art materials, including a rainbow of beautiful fabrics, handmade papers, clay, boxes, buttons, and even buffalo wool. Special thank you goes out to Mary Norton, Theresa Zip, Jean Tait, Stephanie Gruss and the art therapy students who volunteered to spread the practices of community studio art making! While attending the conference, I also took an opportunity to present our art hive initiative to art therapy students at St Stephen's College's and at a public conversation at the award winning Edmonton Public Library.
I was pleased with my choice of pre-conference courses, because I met a whole new group of like-minded thinkers. "Building the World We Dream About: The Pedagogical Challenges of Constructive Social Engagement Workshop". Amber Dyon opened the session with a Cree prayer and showed an award winning local film about residential trauma and recovery "Gently Whispering the Circle Back" (www.bluequills.ca).
https://www.youtube.com/watch?v=8GuAVRFM1b4       
The conference's keynote speech by Dr. Rajesh Tandon, co-director of UNESCO Chair on Community-based Research and Social Responsibility in Higher Education, was a welcomed proclamation. As universities advance in the expectation that they will contribute to global transformation, part of their reform, said Dr Tandon, would be to acknowledge multiple sites of knowledge, including knowledges located in local communities. He noted that there is an artificial divide between intellectual and manual work and intellectual pursuits are placed above practical knowledge. He described his own eye-opening experience of returning to India as a young man with the realization that everyday ways of living in rural villages were the basis of the popular holistic healing that was sought after at the US university he attended. He recommends that higher education take a more humble stance and gather together multiple knowledges by developing partnerships with members of civil society.
My own presentation both at the conference and at St Stephens, "Neighborhood Art Hives: Engaging Communities in Teaching and Learning," illustrated how a community art studio functions: as a free and welcoming public homeplace and collective garden, as a storefront classroom for university students (fostering engagement through service learning); as a third space for service learning, and as a stimulus for citizen inquiry (how it gathers, reflects, and disseminates community input through arts-based methods).
The Edmonton Library public conversation, "Art Hives and Makerspaces: How can creative engagement foster social innovation?" was hosted by Concordia's very own University of the Streets Café. The Makerspace director, Peter Schoenberg and I briefly opened the two-hour conversation aided by Eryn Fitzgerald's able facilitation. Attendees soon warmed up to this new way of attending a talk and a lively conversation ensued as we began to imagine the future of every library hosting fabulously creative technologies and art making. Near the end of the conversation, attendees reflected on the format of the evening and expressed the discomfort they initially felt when asked to join in on a topic they had come to simply learn more about. One woman spoke eloquently about how we need spaces like this, to practice being uncomfortable, with sharing ideas with each other; whether it is about getting up to speak or welcoming individuals who are different then ourselves, economically, politically, gender, age. A salsa dancer added an example of "snow balling," a dance practice they use to engage the public in what can be perceived as a rather closed group. In a public venue, they begin to salsa dance and then each partner separates to invite those watching to join in. The dance continues in this way until the floor is full of dancing partners! A young mother who stood rocking her baby added, what if she suddenly began to dance right now, in the middle of this public conversation? Would we welcome her alternate means of expression? How could we think creatively of how to be welcoming to other ways of being in order to be more inclusive? Are their ways we can practice multiple ways of expression even in spaces that privilege cognitive verbal expression.
Wow! It was a great trip to Edmonton and I look forward to returning for another round of teaching and learning!
Janis Timm-Bottos