Submitted by

arthives_hq_admin

on Fri, 11/25/2022 - 10:31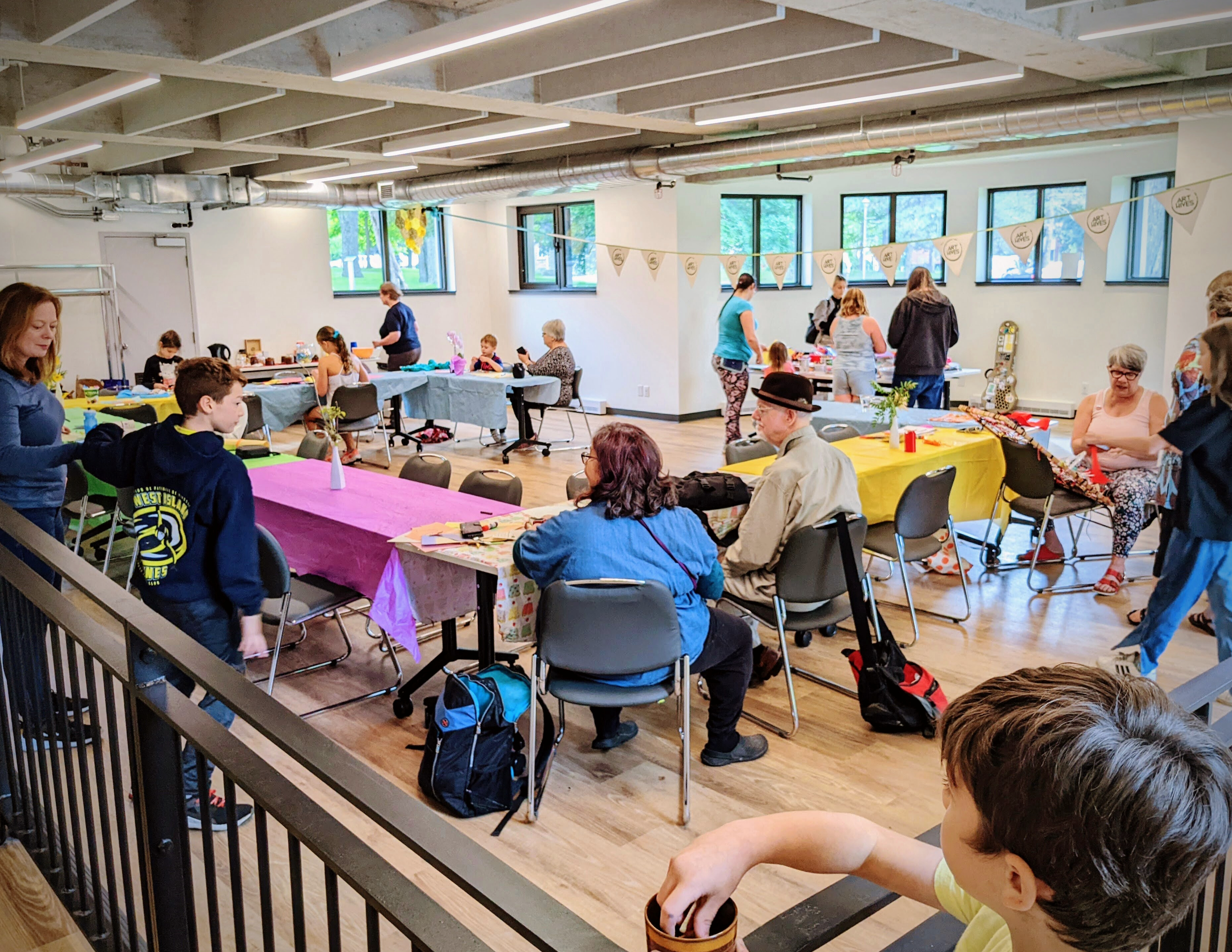 What motivated you to start this art hive?
Each of us being creative at heart, we both had experienced the personal, therapeutic and community benefits of participating in Art Hives during several years. Throughout, we were always feeling inspired to bring an Art Hive to Dorval, since there were none offered in our own community. We decided to collaborate on starting a Dorval Art Hive, after meeting in Janis Timm-Bottos' "Community Arts Studio" course at Concordia,
 and realizing we had the same hope and plan for Dorval. We wanted to join the Art Hives movement to offer a diversity of people a warm, open, inclusive, friendly, accessible, supportive, soul-nurturing and creative sp
ace to be able to express ourselves, share with others, learn from each other and bring people a closer sense of community. All this, with the therapeutic side effects of inner growth, healing, a sense of purpose and togetherness.
What is one thing that is working really well in your art hive?
The Dorval Art Hive has been attracting an intergenerational and diverse group of participants, with both regulars and new participants each time. The ambience is welcoming, friendly and bright. The participants seem to feel at home, meet new people and have a wonderful time.
What is one thing that is challenging?
One challenge is our big lack of storage. Our Art Hive space is in a shared, multipurpose room at a community centre, so we can't bring in our own storage solutions. The centre is experiencing a general shortage of storage space. It ends up taking us an excessively long time to set up and re-store our materials in half lockers, which have proven to be too narrow, too small and too few. We envision a feasible solution for the future.
What are some of your hopes for the near future?
In addition to having a practical storage solution, we hope to attract more teens and young adults to our Art Hive, to fill in the missing age demographic, We also hope to have a larger "core group", and possibly integrate acoustic instrument jamming into part of the studio time.
What is the effect that you see your art hive having on the lives of participants and facilitators?
We have seen our regulars looking more and more comfortable, happier and with a sense of belonging. We see and experience the creativity being more exploratory and imaginative. We see participants feeling safe coming out of their shell in the presence of the other open and friendly participants. New connections are being formed. There is a rewarding sense of community. We all feel inspired, curious and creatively expressive. A great time is being had by everyone each time!
What makes your Art Hive unique?
Our Art Hive is so spacious and bright, it gives a feeling of expansiveness and lightness. Our participants are very friendly and open to conversing and sharing with new people. Many participants come and feel comfortable creating, even if they are not experienced in art. Some even surprise themselves with the kindling of their creativity. Nobody feels like more of an artist than anyone else. We all support and appreciate each other. 
What does being a part of the Art Hives Network mean to you?
It is very meaningful to be a part of the Art Hives Network. We feel a part of something larger than ourselves, like all together we are creating positive social change. We are all supported, encouraged and valued by each other. 
You can find the Dorval Art Hive on our website as well as on social media.
The "Spotlight on Art Hives" series aims to help the public discover new art hives and the stories behind them and help practitioners learn how other art hives do things.
If you have an art hive and would like to be part of the "Spotlight series", follow this link to answer the questions.