Submitted by

Rachel @ Art Hi...

on Mon, 03/04/2019 - 17:30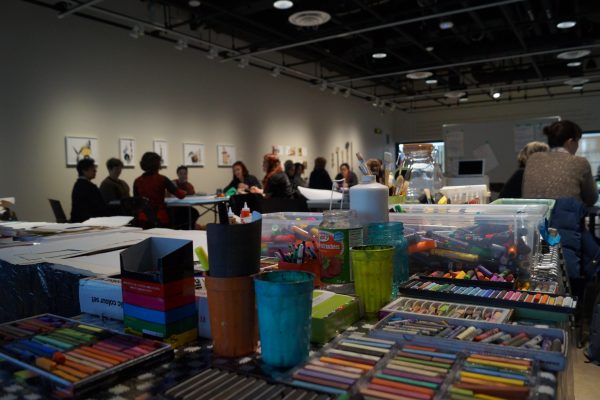 By Keiko Kataoka, Sheridan Insider
March 4th, 2019
From March 1 to 4, Sheridan hosted a group of facilitators at the Art Hives Winter Institute in collaboration with Concordia University and the Toronto Art Therapy Institute. The training was coordinated by the Art Hives Network – an organization that connects small and regenerative community art studios across Canada and the world to strengthen and promote the benefits of these inclusive and welcoming spaces.
More than 30 guests gathered to learn about different art hive models, the values, philosophical and historical aspirations of Art Hives and the impact these arts-based practices can have on individuals and communities. This was the first training session of its kind hosted in Ontario by the Art Hives Network. It included participants from Manitoba, New Brunswick and Ontario – including staff from Sheridan.
Through the sharing of methods and materials, the hope is that participants can return to their communities and create these inclusive public home places, which bring multiple opportunities for community building and healing through art making, dialogue and skill-sharing into neighbourhoods.
Interested in seeing Art Hives in action? Read below for how you can get involved in one at Sheridan.
On Tuesday, March 5 and Thursday, March 7, students and staff are invited to participate in an Art Hive at the Creative Campus Galleries, HMC B-Wing. Drop by for five minutes or stay the whole time – it's up to you how you want to participate in this community-building activity!
You don't need to be studying in an arts discipline nor have any previous experience participating in an art hive. You just need to be interested in getting creative in a hands-on and social environment.
Details: 
Tuesday, March 5 from noon to 4 p.m.
Thursday, March 7 from 1:30 p.m. to 4 p.m.