Submitted by

arthives_hq_admin

on Fri, 12/09/2022 - 13:58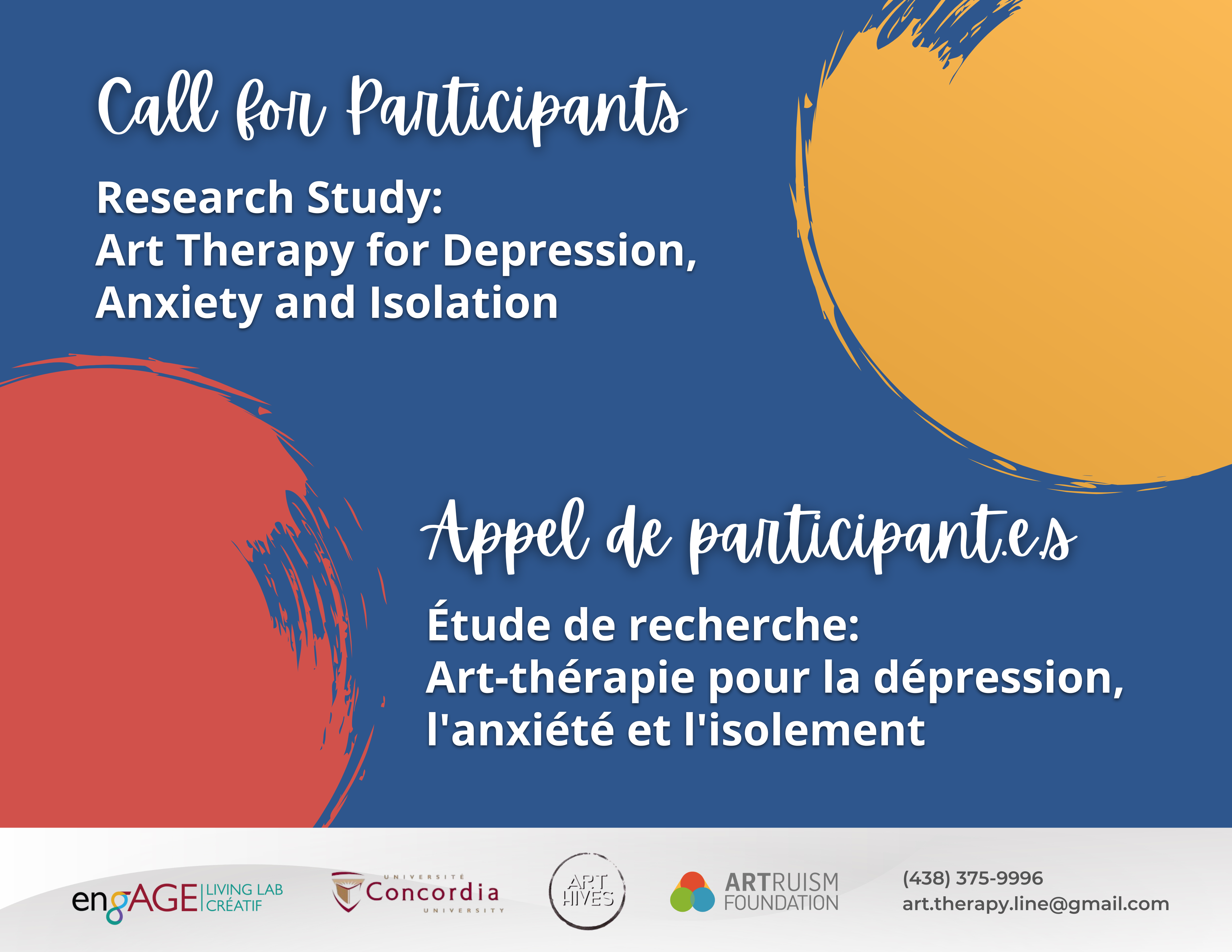 Call for Participants
Research Study: Art Therapy for Depression, Anxiety and Isolation
Open to adults (18+) with a diagnosis of depression or anxiety.
12-week art therapy group (January to March 2023).
1.5-hour weekly sessions, offered either in-person in a Montreal Art Hive, or online.
Participation is free of charge and entirely voluntary.  Availability is limited, a waitlist will be created.
Study directed by Dr. Janis Timm-Bottos, Concordia University's Department of Creative Arts Therapies, in collaboration with Dr. Giuseppe Mazza MD, Groupe Artruisme
To participate, please register before December 19th, 2022.
For more information about the study: (438) 375-9996, art.therapy.line@gmail.com
Appel de participant.e.s
Étude de recherche: Art-thérapie pour la dépression, l'anxiété et l'isolement
Ouvert aux adultes (18+) avec un diagnostic de dépression ou d'anxiété.
Atelier d'une durée de 12 semaines (Janvier à Mars 2023).
Séances de 1.5h, offertes soit en personne dans une Ruche d'art à Montréal, ou en ligne.
La participation est gratuite et entièrement volontaire. Les disponibilités sont limitées, une liste d'attente sera créée.
Étude dirigée par Dre. Janis Timm-Bottos, Département de thérapies par les arts de l'Université Concordia, en collaboration avec le Dr. Giuseppe Mazza MD, Groupe Artruisme.
Pour s'inscrire (avant le 19 Décembre 2022) ou pour plus d'information sur l'étude: (438) 375-9996, art.therapy.line@gmail.com