Submitted by

Rachel @ Art Hi...

on Fri, 07/07/2017 - 17:28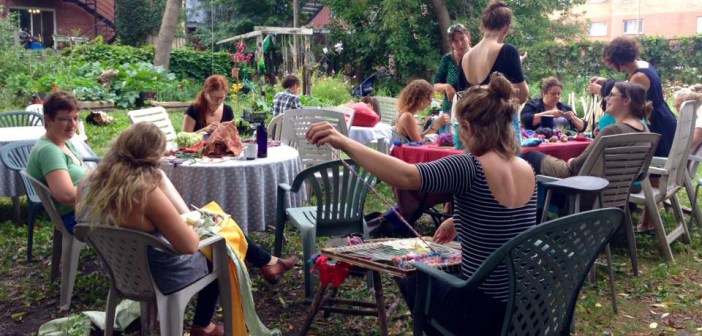 BY EVA CROCKER ON JULY 4, 2017
The St. John's chapter of Art Hives will be hosting a series of free, community-based art pop-ups throughout the summer. The organization recently hosted their first pop-up at Rocket Bakery.
On a sweltering Monday afternoon, just after school wrapped up for the summer, Cathia Finkel spread supplies for a simple printmaking project out on a large table in the back of Rocket Bakery. An Art Hives banner was strung above the table and people trickled in, filling the seats around the table.
The Art Hives Network was started in Montreal six years ago by Janis Timm-Bottos, an art therapy professor at Concordia University. The network links community art studios all over the world. Each of the "Art Hives" offers free supplies and tries to create an inclusive environment where people with diverse socio-economic and cultural backgrounds, as well as varying artistic abilities can get together and make art.
"It's a place where people can gather and avail of art materials at no cost. Whether you feel you're an artist or not, you can create without any pressure. It's really just about gathering people and allowing them to access art on their own terms," explained Finkel, an organizer and founder of the St. John's Art Hives branch.
Finkel visited an Art Hive for the first time on a visit to Montreal three years ago. She was completely enchanted and made a point to go back to make art and chat with the organizers on every subsequent visit to Montreal.
"They have lots of materials, they depend on donations, and people are extremely generous. There's a whole wall of every kind of supply you could possibly imagine from buttons to paint brushes to paper. There's stuff to knit with, there's sewing machines, in fact the last time I was there they had a loom," Finkel said.
Last year, Janis Timm-Bottos came to Newfoundland to give a lecture and host a pop-up Art Hive event. Shortly after Timm-Bottos' visit, Finkel began working with a small group (including Leah Lewis, Heather McLeod, Xuemei li, and Willow Jackson) on establishing an Art Hive here in Newfoundland.
They started offering weekly Art Hive sessions to new Canadian students at Holy Heart High School. The facilitators would set up a variety of different stations at each session, giving kids an opportunity to try out everything from painting on canvases to making sculpture from recycled materials.
"The introduction Janis offered all of us was the catalyst to begin something here and it's proven to be quite successful," Finkel said. "I really believe the students got a lot out of it. It was wonderful to see how engaged they became after a short time, making art and sharing their experiences and skills."
With Holy Heart closed for the summer, the group is working on bringing the St. John's Art Hives branch out into to the wider community. They have started hosting pop up events in different venues across the city and are being met with lots of enthusiasm.
Amongst the participants at last week's event were some of the students who had been a part of the sessions at Holy Heart, despite the blaring sun outside these teenagers were eager to settle in and make some art. Finkel was also excited to welcome a few new comers who had never been to an Art Hive before. She hopes the Art Hives community here in St. John's will continue to grow.
"The beauty of the Art Hive is that the doors are open for anybody who wants to come and pick up a pencil or a paint brush," Finkel said.
The St. John's Art Hives branch is welcoming donations of supplies and is also seeking out spaces to host future events. Anyone who is interested in donating materials or a space can contact Finkel through Facebook. The St. John's organization is planning to create a Facebook page soon where people will be able to watch for upcoming Art Hives events. 
https://theovercast.ca/art-hives-all-the-buzz-in-st-johns-this-summer/