Submitted by

Rachel @ Art Hi...

on Wed, 10/21/2020 - 16:13
Image: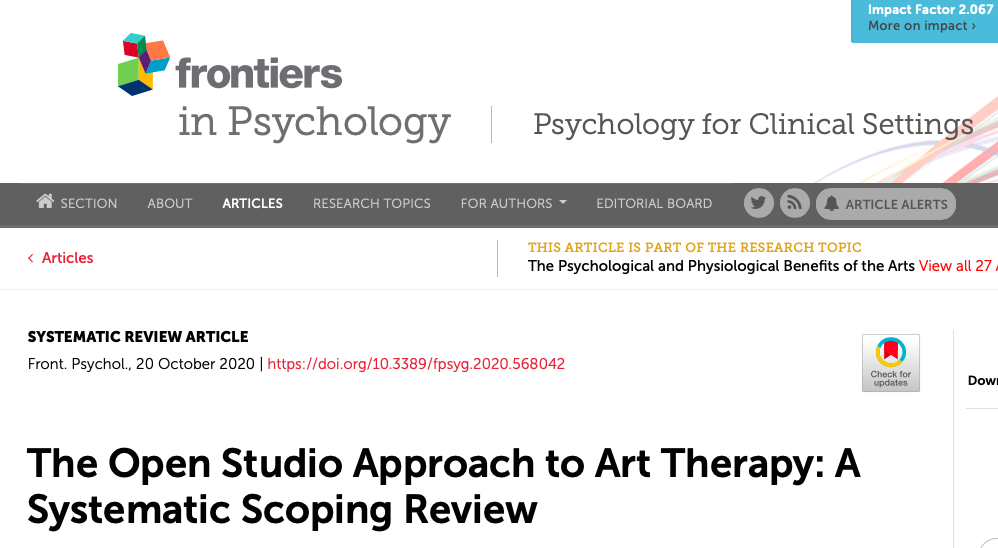 The Open Studio Approach to Art Therapy: A Systematic Scoping Review
SYSTEMATIC REVIEW ARTICLE
Frontiers in Psychology
20 October 2020 
Daniela Finkel* and  Michal Bat Or
The School of Creative Arts Therapies, Faculty of Social Welfare and Health Sciences, University of Haifa, Haifa, Israel
This research encompasses a systematic scoping review of literature and research pertaining to the open studio approach to art therapy, which originated with the work of artists in psychiatric hospitals in the 1940's. As art therapy became a profession, it sought recognition by adopting theories from other therapeutic disciplines. Today, however, there is an increase in the prevalence of studio practice that emphasizes art as the core of the therapeutic work; moreover, contemporary art therapy approaches even venture beyond the traditional definition of the profession to the realm of social action. Consequently, open studio practice has become more widespread and is currently implemented in many different contexts among a wide range of populations. The purpose of this research was to accurately map out world literature and research on the open studio approach to art therapy as well as identify relevant publications and main themes. Therefore, the systematic scoping review was not restricted to specific periods, languages, settings, or populations. Publications were identified through a rigorous, replicable, and extensive search of international literature in data bases and hand searches in art therapy journals; in addition, special efforts were made to locate unpublished research and literature. Data was charted using a tool developed by the researchers, based on the review questions. Results indicate that most of the literature relating to the open studio approach dates from the 1990's: only a few earlier publications were found. Over the last decade, the literature has grown in volume in comparison to previous decades, reflecting an increasing prevalence of the open studio approach. This growing mass of publications reflects an historic development in the field of art therapy. This research also identifies core principles as well as a wide range of variations on the open studio model, in addition to unique characteristics that vary according to context and therapeutic approach. It explores open studio practice within different settings and populations and pinpoints gaps of knowledge that can indicate the need for further research.