Submitted by

Rachel @ Art Hi...

on Fri, 07/07/2017 - 16:49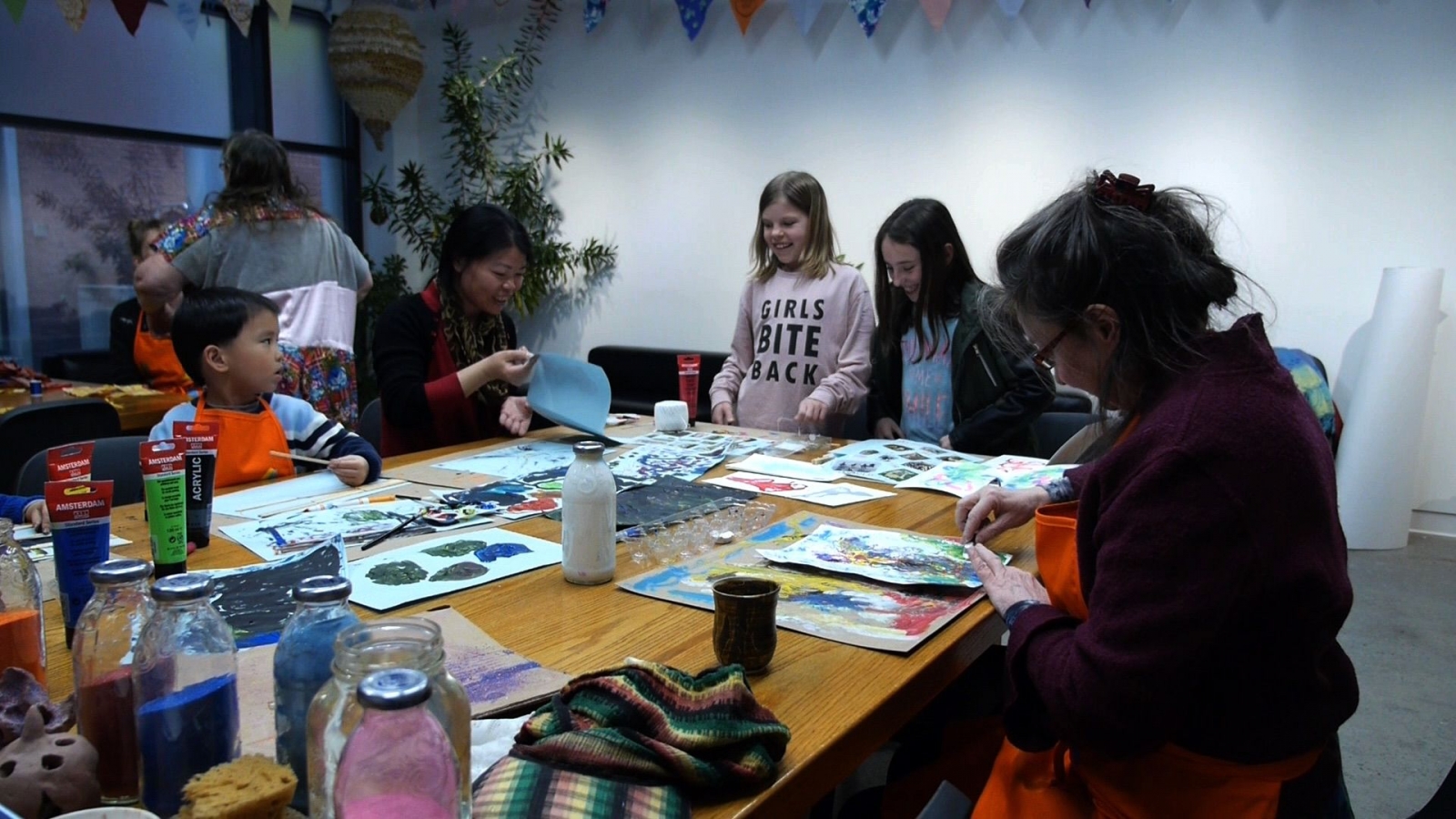 By Clothilde Goujard in News, Culture | June 12th 2017
At a small cooperative in the underprivileged neighbourhood of Centre-Sud in Montreal, you can pick up a pencil, a paintbrush or knitting needles and let your imagination run free. 
On this Thursday afternoon, two people from the local community are sitting at a wide table painting and sharing ideas. A man resting in an armchair watches. Others drop by to provide material or just to hang out in the vibrant, creative environment.
Le Milieu is one of 105 "art hives" in the world. The concept came to Janis Timm-Bottos, an art therapist and professor at Concordia, after two decades observing the benefits of art on communities.
Art hives aim to foster stronger and more inclusive community through creativity. Each art hive has its own business model: non-profit, cooperative, or for profit. But they all share a major characteristic: free access to art. They host workshops to teach such creative skills such as knitting, soap-making or painting. They welcome people who come to craft their own projects.
"It addresses a need, a need to break barriers, the need that people have to use their creativity," says Rachel Chainey, national coordinator and co-founder of Le Milieu. "People recapture their creativity, their knowledge, their communities through spaces like those and I think there's enthusiasm for this, and this model. 
"We want it to be accessible. It's a model that we call open source. It's made so that people can replicate it, make it their own and adapt it to their context."
The National Network of Art Hives was launched in 2014 in Montreal to help spread the model.Chainey supports existing art hives and helps people who want to start new ones, connecting them with members, resources and training.
Art breaks down barriers
The J.W. McConnell Family Foundation provided funds for art hives early in their development as part of a program for art and social inclusion, donating $300,000 dollars from 2012 to 2015.
"Providing the means of creating art to vulnerable or excluded populations and individuals is an unexpectedly powerful and effective way of breaking down barriers, of creating communities, and a sense of shared identity," says Stephen Huddart, president and CEO of the J.W. McConnell Family Foundation.
Huddart recognized the social impact of the project as art hives opened in low-income social housing, homeless shelters or hospitals, offering spaces for different populations from at-risk youth to seniors.
The latest art hive recently opened at the Montreal Museum of Fine Arts.
"That's another manifestation of the impact on Montreal," says Huddart. "It's important to see that in the fine arts community, there's recognition of art as a social catalyst."
Feeling included is critical
Art therapist Stephen Legari is in charge of the museum art hive, which is one of the initiatives of the museum's art therapy and wellness program funded by the Rossy Family Foundation.
"When we're welcoming people here at the art hive a couple times a week, it is one of my tasks to make sure this is an inclusive and welcoming space," he says, "that it's a space where people can freely express themselves, or if they're living with different kinds with problems or challenges, that it can also provide a support for them."
Twice a week, a wide room in the museum is open to anyone who wants to create. The young art hive has yet to build a strong community, but some children and adults alike have already made the space their own.
Christine Ouimet has been going to different art hives for the last few years and quickly adopted this one.
"I started to come because I love it. It's beautiful, the light, and the people here. You see people from every nationality and you can talk with people."
At the table where she's sculpting a clay bowl, Fei Gin is painting and helping two girls who've made collages with pictures of animals.
It's her second time at an art hive. Growing up with a grandmother who disliked art, she wanted her two sons to learn to be creative.
"I try to give them an environment of beauty," she says.
Full story (and video!) here: http://www.nationalobserver.com/2017/06/12/news/buzz-about-montreals-awesome-art-hives