Submitted by

Rachel @ Art Hi...

on Thu, 07/12/2018 - 17:21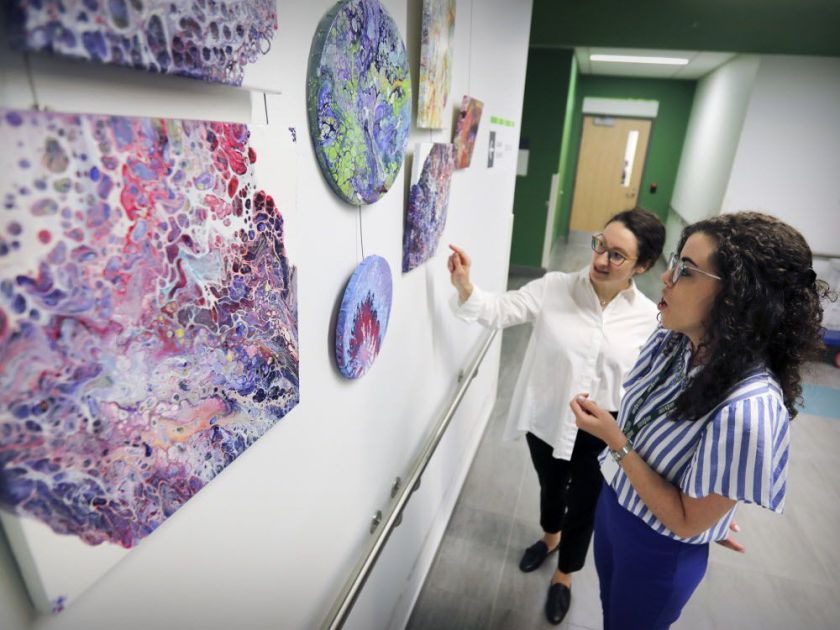 Art therapy at the MUHC: Drawing a safe space around cancer patients
Cedars Can Support's Art Can Heal Art Hive                                                                                                                                                                                                  
"You sit there and think, 'What shall I create?' You learn from the people you're with: That is the inspiration. Art is so helpful in healing."
SUSAN SCHWARTZ, MONTREAL GAZETTE
Updated: July 12, 2018
Photo: Alexandra Kirsh, left, curator of the RBC Art and Heritage Centre of the MUHC, looks at the Glen site's latest exhibition of works by cancer patients participating in an art therapy program run by Cedars CanSupport with art therapist Katelyn Brinkman. JOHN MAHONEY / MONTREAL GAZETTE
Theirs is a community founded in cancer and art. In coming together in weekly art therapy groups, patients who were treated at the Cedars Cancer Centre of the McGill University Health Centre are seeking meaning in what happened to them and starting to heal.
"We find that patients require therapy and a sense of community long after their cancer diagnosis and treatments as they strive to re-integrate into their life, having been deeply changed by cancer," said art therapist Katelyn Brinkman; among her responsibilities at the MUHC are guiding two groups for people treated for cancer.
The group "is a safe space where we invite all emotions, without fear of judgment. We are seeking to increase people's understanding of what is happening to them," she said. "The art allows for communication where they may not have words to express themselves or those words may fail."
Their art is displayed in exhibits at the Cedars Cancer Centre at the MUHC's Glen site. Previous themes have included adversity, hope and love; the current show, which opened with a vernissage June 21 and will hang until January, has beauty as its theme.
[Reflections on Beauty #2, by Valerie Aitken, who is part of the Cedars CanSupport art therapy group at the MUHC.]
"It's a unique way of healing that they found helped them," Brinkman said. The work hangs for six-month intervals and "when other patients see the artwork on the wall and read the descriptions, it can inspire them as they are going through cancer and are in the middle of treatment."
The art-making sessions are funded by Cedars CanSupport, which offers free support services to cancer patients at the MUHC and their families; the exhibits are a shared initiative of Cedars CanSupport and the MUHC's RBC Art and Heritage Centre. About 30 works are chosen for each show; most are by group members but family members, staff and the public are also represented.
Most join the art therapy group toward the end of treatment or after it because they were too ill earlier. A hospital-based group meets Wednesdays at the hospital; it is for women only, its members typically united through breast cancer or ovarian cancer. Another, for both men and women, meets Mondays at a St-Henri art hive, La Ruche d'art, and is open to loved ones and staff as well as oncology patients.
Valerie Aitken, whose Reflection on Beauty #2 hangs in the current show, joined the art therapy group after completing treatment for ovarian cancer in April 2016. "You sit there and think, 'What shall I create?' You learn from the people you're with: That is the inspiration. Art is so helpful in healing.
"But it's not just the art. I find being in the group helpful from the point of view of well-being and realizing what others may have gone through with chemo, radiation, surgery; so there is that exchange," she said.
"And there is that great question mark over our heads: Will it come back?"
Making art is often about control, said Brinkman, who has a master's degree in art therapy. "If they don't have control over their body, they do have control over how they create something — and that can give them a sense of power and autonomy in their experience."
Art therapy "is a method aimed at fostering emotional self-expression," she said. "It's not always about the product being created but the process of the art-making: It could be squeezing clay or making repetitive motions — a release of energy to help physically calm you down and focus as well."
Malaka Ackaoui, who joined the group after being treated at the MUHC for breast cancer, enjoyed art classes as a student but career and other demands meant she did no art for years. In the group, "it all just came back to me."
Ackaoui has a few works in the current show, including a large acrylic painting called The Enchanted Forest, featuring a mirror in the background. "I wanted everyone who looks at the painting to see his or her face — and find the beauty," she said.
Yet there's more to the group than making art; in fact, no art background is required. "We open with a check-in about their week and how they are feeling emotionally," Brinkman said. There's a quote posted, by anyone from Carl Jung to Bob Dylan, and an art activity related to a particular theme.
Talking about the quote "brings us together and brings up issues and feelings," Ackaoui said. "We talk and do art and we laugh a lot: There are a few sad issues, but most of the time we have so much fun.
"The therapy part is interesting because we speak to each other. I have seen psychologists but it doesn't help as much as this group contact does. By talking about our own issues with others, we can get help and a different perspective."
Brinkman said that, after cancer, people often find their life goals have changed. "And the art therapy support groups seek to help them through this transformative process."
For Vanessa Brandt-Rousseau, cancer "kind of shook me into waking up and saying, 'You are worth it and I love you.'"
As she underwent treatment for breast cancer discovered in late 2016, "I grew so much," she said. "My heart opened; my mind opened."
Among other things, she practised tai chi and qigong, both said to promote health, attended church and studied Taoism, whose yin and yang symbols make up the middle work in the triptych she submitted to the Cedars show.
In addition to joining the group, Brandt-Rousseau did individual art therapy sessions. "Art therapy is probably the most effective way of moving through your emotions," she said. "And if you weren't revealing something, you were making art to calm yourself. You were at peace."