Submitted by

Rachel @ Art Hi...

on Tue, 04/04/2017 - 13:17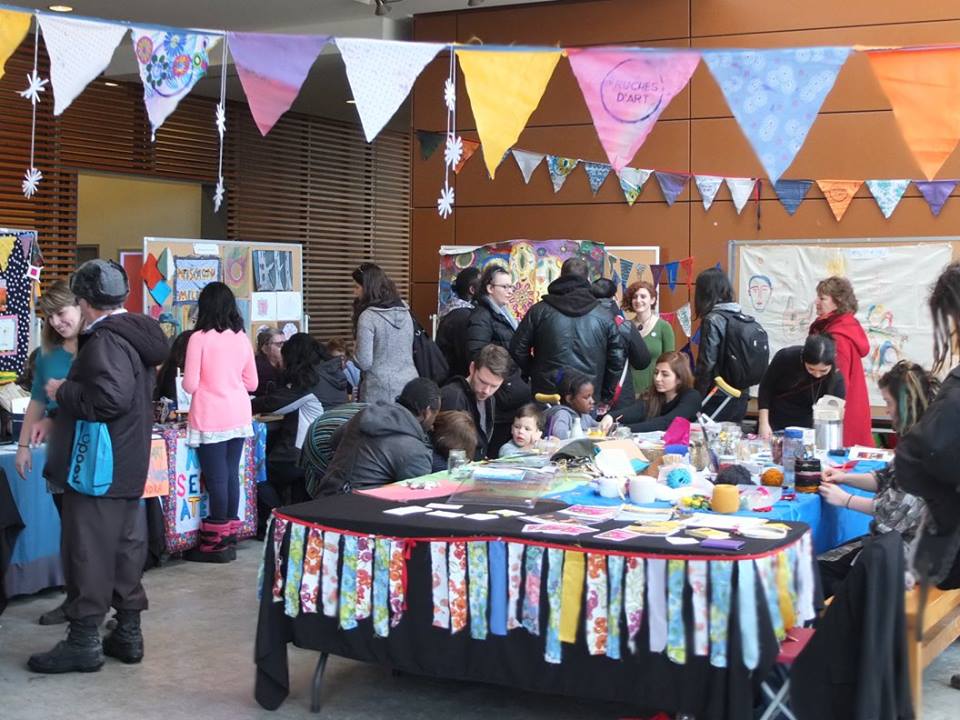 Dans le cadre de la Semaine des Thérapies par les Arts organisée par l'Association des art-thérapeutes du Québec, le Réseau des Ruches d'Art a organisé un événement de réseautage pour les praticien(nes) et autres personnes et organisations intéressées à découvrir ou intégrer ce modèle d'inclusion sociale par les arts.
Cet événement gratuit et ouvert à tout.es à attiré quelques centaines de personnes d'horizons diversifiés, intéressées par l'approche des Ruches d'Art, qui se sont réunies pour discuter et créer avec des gens des 18 Ruches d'Art de la région qui ont répondu à l'appel. Une discussion de style ''world cafe'' a conclut le rassemblement. Les participant.es ont pu y discuter de développement durable, du rôle de l'art thérapeute dans un ruche d'art et partager des pistes de réflexions et des outils de facilitation dans ce type de tiers-lieux.
--------------------------------------------
As part of Creative Arts Therapies Week organized by AATQ, the Art Hives Network organized a networking event for practitionners as well as individuals and organizations interested in discovering or integrating this arts-based social inclusion model.
This event, which was free and open to all, attracted several hundred people of diverse backgrounds, interested in the Art Hives approach. They gathered to create and discuss with people from the 18 Art Hives that were represented. A ''world cafe'' discussion concluded the event, in which participants discussed sustainable development, the role of the art therapist within an art hive, and shared reflexions and tips about facilitation in this type of third-space.
Voyez plus de photos de l'événement ici / See more photos from the event here:
https://www.facebook.com/media/set/?set=a.1320637208014394.1073741858.654465571298231&type=1&l=e22ac5dd43
Merci à toutes les Ruches d'Art participantes // Thank you to all the participating Art Hives:
La Ruche d'Art Alexandra/Pointe-St-Charles, La Ruche d'Art St-Henri, Mile End Community Mission, Concordia University's Centre for Creative Reuse - CUCCR, Le Milieu, La Ruche d'Art de l' Association des art-thérapeutes du Québec, La Flèche rouge : Librairie et atelier de quartier, échoFab, Helios Makerspace, Studio d'art Saint-Sulpice, Temple Art Hive - Kaveret Omanut, NDG Seniors Atelier, La Ruche Musicale/Music Hive, La Ruche d'Art DBM Art Hive, La Ruche d'Art Yéléma, La Ruche d'Art de la Bibliothèque Mordecai-Richler, Jewish Eldercare Art Hive.