Submitted by

Rachel @ Art Hi...

on Sun, 10/28/2018 - 11:06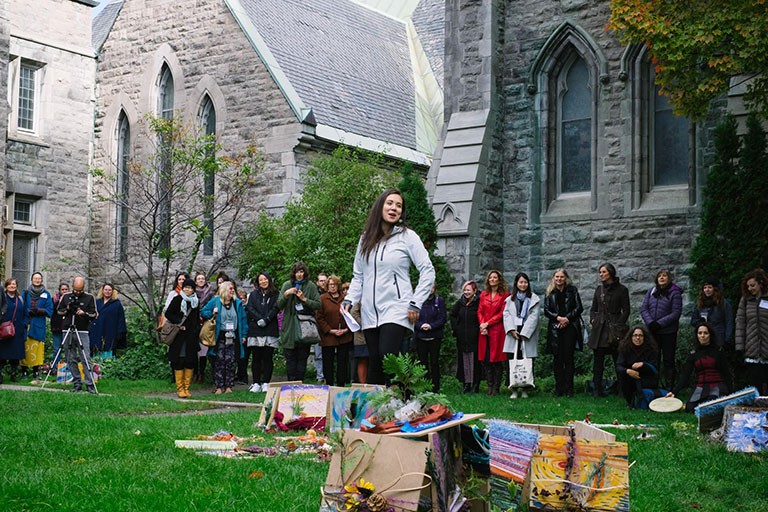 Conference examined how art therapists can respond to polarization.
The 39th Annual Canadian Art Therapy Association Conference was hosted at Concordia University Concordia October 12-14 bringing together over 230 attendees. The Conference attracted participants from around Canada and from locations as diverse as Australia, Ireland, Israel, Japan, Singapore, Mexico and the United States.
The conference showcased Concordia's strong contribution to the field of Arts Therapy with five Creative Arts Therapies Faculty members, 19 alumni and seven current students sharing their work at the conference. Exhibitions and workshops were open to the public, Creative Arts Therapies alumnae and others presented on a variety of topics and keynote speaker Pamela Whittaker discussed the relationship between environmental issues and art therapy.
Bringing a diverse community to Tiohtià:ke
Tiohtià:ke (Montreal) in Mohawk means broken in two, after the place where the St. Lawrence River separates around the island now known as Montreal explains Rachel Chainey (MA Art Therapy 2018), the 2018 CATA Conference Chair and Art Hives Network Coordinator.
 "The theme of conference is mending what is broken between us and how the arts can respond to polarization. How art therapists are positioned to be able to hold some of the world's suffering and celebrate the strengths of individuals and communities."
Chainey, a recent grad of the Art Therapy program at Concordia, says that she wanted to bring the conference here because Concordia provides a great space for community development.
"This is a lively environment. Many of its faculty and alumni are leaders in the field, working on researching and developing therapeutic approaches ranging from psychodynamic art psychotherapy to the emerging field of public practice art therapy."
She says that because Canada is such a vast geographic region, the CATA conference gives practitioners the annual opportunity to get together and exchange ideas.
"Art therapy is a very diverse field. Bringing that diversity of practitioners from across Canada and the world together to learn from one another is very important," she says.
She believes that attendees left the conference with new tools for building bridges between people.
Art therapy as a vehicle for reconciliation
"The conference created a space for dialogue, not only in how we can reflect and grow the profession, but how we can reflect and grow as people within a cross-cultural context," says Megan Kanerahtenha:wi Whyte (MA Art Therapy 2018), a Kanien'kehá:ka Mohawk First Nation art therapist from Kahnawake. "That is key to creating space for indigenous conversations."
Whyte conducted opening ceremony for the conference on Mohawk Traditional Territory in Montreal and presented her paper Walking on Two-Row: Assessing Acculturative Identity through Material Interaction. In it, she examined her own material interaction with both western media and culturally-specified Mohawk First Nation's media, noting emotional, cognitive and other stimulated areas of functioning during the process.
For Whyte, it was important that indigenous and non-indigenous peoples engaged in a deeper dialogue.
"The opportunity to explore the role of colonization was powerful, validating and creates so much hope that art therapy can act as a vehicle for reconciliation—of honouring and giving space to two ways of knowing," she says.
Fostering community and your own self-image
"Montreal really gives people a welcome feeling. Visitors really felt the warmth of our province.  Everybody left with a big smile," says Maria Riccardi, an art therapist, career counsellor and psychotherapist who works as an adjunct professor of art therapy both at Concordia and at l'Université du Québec in Abitibi-Témiscamingue.
"The conference was really built around Montreal. That was a strong point."
One of Riccardi's areas of practice is working with Canadian Military veterans. She has an expertise with veterans living with combat-related post-traumatic stress disorder within the context of trauma intervention as well as in the evaluation of art processes and products during treatment.
"We had a marvellous panel about mental health and art with veterans. It was very human, spontaneous, and touching. They [veterans] make art with heart. Making art creates for them a new identity as human beings and as artists," says Riccardi.  
Chainey and Riccardi both stress that art therapy is an open space for anyone interested in connecting with others and working on themselves.
Post-conference, Chainey and Associate Professor Janis Timm-Bottos, founder and director of the Art Hives Initiatives, hosted an Art Hives 101 session at the Concordia Art Hives. The workshop was open to anyone who was interested in starting a community-based art hive.  
For more information on how to get involved in arts therapy visit the Canadian Art Therapy Association, Art Hives or Concordia's Department of Creative Arts Therapies websites.