Submitted by

arthives_hq_admin

on Tue, 04/16/2019 - 10:18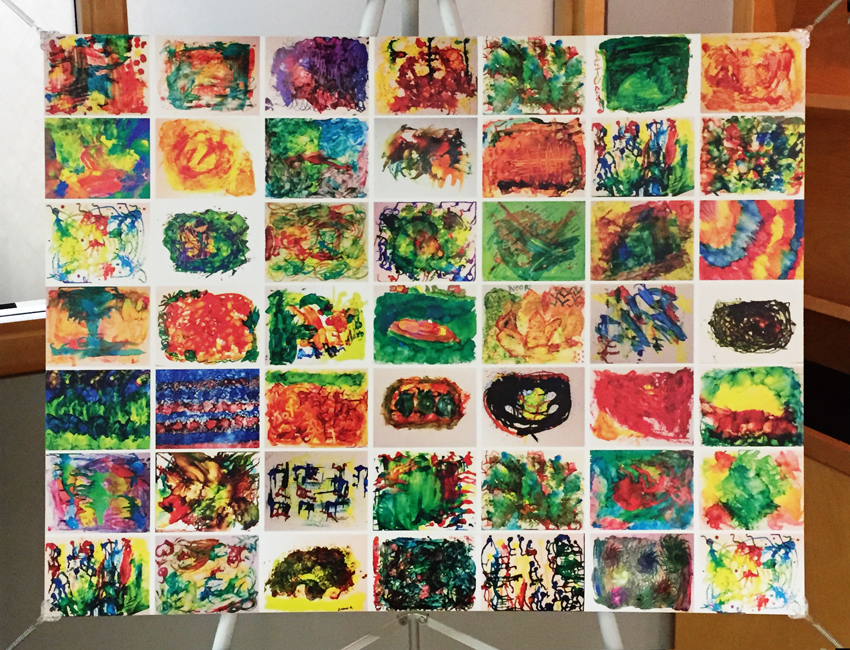 Photo: Community art project made by seniors with and without disabilities, from the Sage and Time art project of L'Arche Sudbury.
By John Guido
Across Canada and around the world, the community arts movement is flourishing. In community and senior centres, in pop-ups and street fairs, and in theatres, galleries, and studios, people are coming together to make art. This creative work can be self-directed, facilitated, or collaborative. The art created can be in a single media such as painting, theatre, dance, video, and music, or combined in multi-disciplinary works. Community arts are leading the way to a more vibrant, just, and inclusive society.
Community art serves different purposes for different groups, yet there are values and objectives common to most community arts groups:
Creativity is an essential human activity and every person has a capacity – and a right – to create that must be nurtured;
Making art unleashes individual creative expression that may benefit the artist and viewers alike;
Working in shared, community spaces promotes conversations, a pathway to mutual understanding and bridging differences;
This leads to a meaningful experience of belonging and inclusion for persons who are excluded or isolated;
Social change comes about when every person and community is valued and able to contribute their unique perspectives, gifts, and abilities.
There is a valued role for the professional artist within community arts. Individuals who develop their artistic abilities and insights have many skills to teach community artists and introduce them to different ways of seeing the world. In larger, collaborative projects, they play an important role in cultivating the contributions of each individual to serve the whole.
Art Hives: "Building communities by making art"
At their 2017 meeting, L'Arche Community Leaders from across Canada were inspired by a presentation made by Janis Timm-Bottos, an art therapist and associate professor in the Department of Creative Art Therapies at Concordia University. Timm-Bottos's passion for community art-making is contagious. She has helped found six Art Hives in different cities and does research on how these spaces impact the lives of individuals and their communities.
Art Hives is a network of community art studios in Canada, the United States, and a number of other countries. They are accessible community spaces that welcome people of all backgrounds, ages, and abilities – free of charge – to make art, connect with others, learn skills, and build community together. These spaces are not programmed so individuals can explore their creativity and develop skills however they like. This creative environment generates fresh ideas and perspectives. As stated on their website http://arthives.org/, "At its heart, an Art Hive is about inclusion, respect, and learning."
L'Arche is taking part in the Community Arts movement
The Art Hives experience is deeply affirming of the new directions being taken by performance and visual arts groups within L'Arche. While art-making has been an important component of day programs for many years, the integration of community arts practices is re-energizing our communities. L'Arche members making art or performing together experience valued belonging in L'Arche and true inclusion in the broader community.
In L'Arche art spaces across Canada, there is an increased emphasis on making art with others in the wider community such as seniors and children. They are working with professional artists in a variety of disciplines to improve skills and explore new ways of seeing and working. More and more, our art groups are participating in projects with other groups and performing and exhibiting works for the public.
We're not looking to join the debate about what is art? Rather, we embrace the community arts movement, firmly believing that creativity builds a more human society. Over the next year, we will continue to reflect on the role of community and disability arts, and put a spotlight on the artists, art programs and spaces in our communities as we Celebrate the Gift of belonging, diversity, and inclusion.
Visit the L'Arche Canada Art Exhibition celebrating the unique voice of artists from across Canada.
Blog: https://www.larche.ca/blog?article=community-arts-create-a-world-where-everyone-is-valued-and-belongs&id=607124