Submitted by

Rachel @ Art Hi...

on Tue, 09/24/2019 - 16:40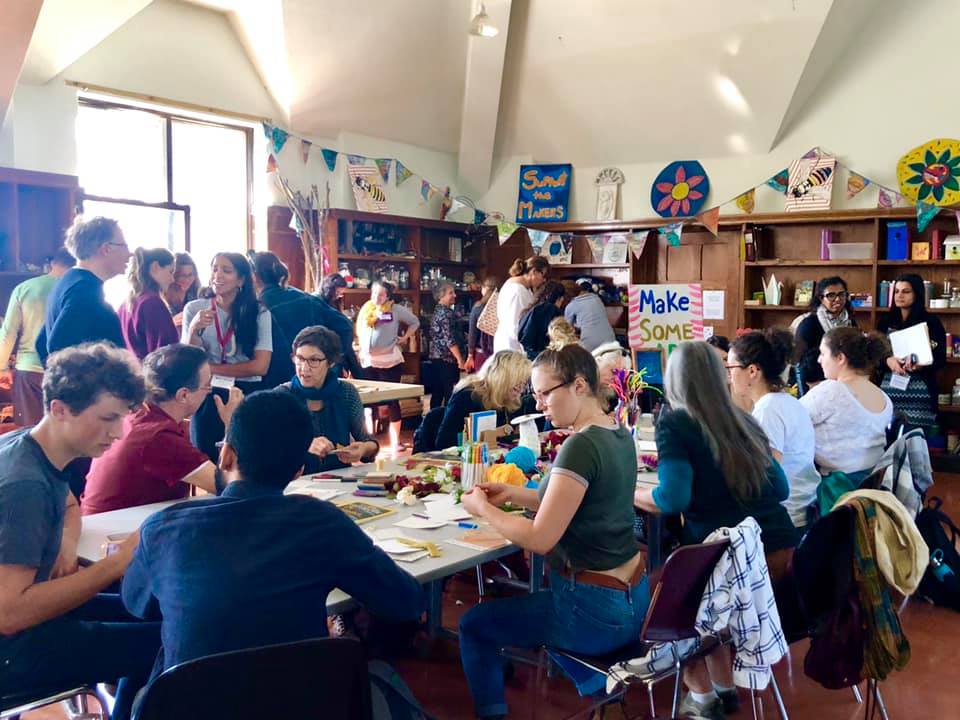 Continued support from the Rossy Foundation deepens the university's connection to community-based therapeutic art studios.
September 17, 2019
By Andy Murdoch
Concordia launched its first art hive on the Sir George Williams Campus in 2018.
On September 18, faculty, staff and students will gather in the Central (CC) Building's Guadagni Lounge on Loyola Campus to celebrate the opening of another artful and sustainable space dedicated to student well-being and community building.
The university can now call itself a full-fledged artistic apiary.
"Everyone is welcome to come and share ideas, make art and participate in cultivating a responsive and caring world," says Janis Timm-Bottos, associate professor in the Department of Creative Arts Therapies and founder of the Art Hives initiative.
'New research, new activity and new creative communities'
Art hives are arts-based social spaces where people gather to build real connections and a sense of community. Visitors use their hands and work with a wide variety of materials to connect, create and express through artistic practices.
Both Concordia art hive locations are funded by the Rossy Foundation, a Montreal-based organization with a mission to contribute to civil society and improve the lives of Canadians. It focuses on cancer care, mental health, civic engagement, education and the arts.
"The Rossy Foundation made the two-campus art hive dream a reality. They are thoughtful, generous leaders in paving the way for community wellness projects like ours to survive. Loyola will be enlivened by the new art, just as the Sir George Williams campus has been," says Rebecca Duclos, dean of the Faculty of Fine Arts.
"A new Art Hive at Loyola will, I believe, encourage new research, new activity and new creative communities to thrive."
Timm-Bottos is primary investigator on a new Fonds de recherche du Québec (FRQ)-funded engAGE project. She says the project will help promote potential partnerships and collaboration with interdisciplinary networks in Loyola's surrounding neighbourhoods.
"The engAGE Living Lab project is a good example of providing multiple employment opportunities for Concordia students from all four faculties at undergraduate, master's and PhD levels."
'A space that defines the healing power of the creative process'
Nine years ago, Timm-Bottos coined the term "art hive." Before she established Montreal's first, La Ruche d'Art St-Henri, which opened in 2011, she had already founded six successful art hives across North America.
Today, the Art Hives network has grown to more than 180 sites across Canada and beyond, including 40 in Montreal and 60 in Quebec in total.
"Over the last year, I've witnessed the enormous success of the first art hive in the Faculty of Fine Arts. Rachel Chainey, Janis Timm-Bottos and their stunning team of students and volunteers have built an active art-making space that defines the healing power of the creative process," Duclos says.
Campus art hives provide additional training opportunities for emerging creative arts therapists while offering all students the multiple benefits of therapeutic art making and community building.
"This new location gives us the opportunity to bring together a diverse group of students, faculty and community members at what might now be the largest art hive in our international network," adds Timm-Bottos.
The Loyola Art Hive has a capacity of 375 people, making it the biggest art hive location in Montreal. Staffed by current students and creative arts therapies alumni, the hive is open to all Concordia students, staff and faculty as well as the general public.
Networking with the neighbours in west-end Montreal has already begun, explains Timm-Bottos. She brought a community liaison onto her team to ensure all older members of the surrounding communities would feel welcome in the new space.
The Loyola Art Hive launches on September 18. A vegetarian lunch will be served and all are welcome.
"We'll be open at the launch for art-making activities and thematic conversations about student mental health and well-being, public practice, creative arts therapies, interdisciplinary research and social inclusion," says Rachel Chainey, Art Hives Network coordinator.
Regular opening hours for the Loyola Art Hive will be every Tuesday and Wednesday between 2 and 7 p.m.