Submitted by

Rachel @ Art Hi...

on Thu, 07/11/2019 - 15:35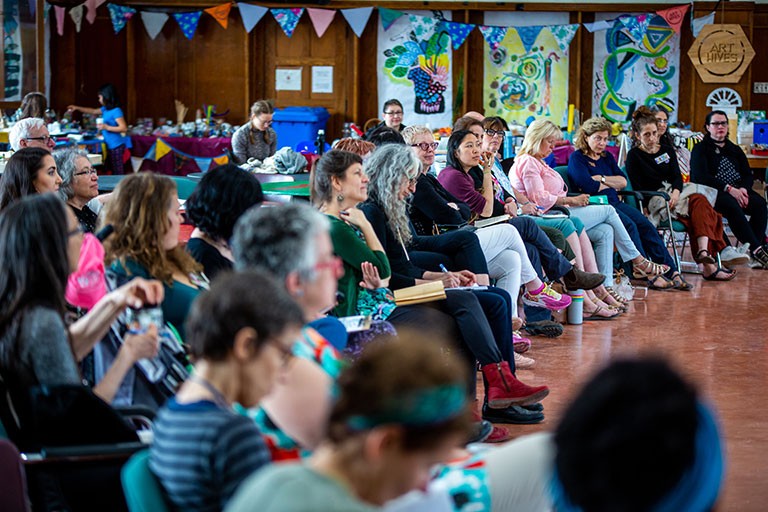 Concordia welcomed 130 international practitioners of art hives to Loyola Campus on May 31 and June 1
July 11, 2019 - By Amelia Wong-Mersereau
Source: Faculty of Fine Arts / 
https://www.concordia.ca/cunews/finearts/2019/07/11/art-hives-holds-symposium-on-public-practice-at-loyola.html?c=/finearts
 Art Hives Symposium, May 31st 2019. Photo by Marc Bourcier
In five short years, the Art Hives Network has grown from a small network to an international phenomena, with 166 known art hives around the world. This spring, a two-day symposium was hosted at the Guadagni Lounge on Concordia University's Loyola Campus, gathering 130 practitioners from across Canada and the United States.
Founded by Janis Timm-Bottos, an associate professor in the Department of Creative Arts Therapies, the Art Hives Headquarters is located in Concordia University's Faculty of Fine Arts. Network National Coordinator Rachel Chainey describes an art hive as "a space that welcomes anyone as an artist."
"It's a third space, a space where people can interact differently than they would normally with people that they might not meet otherwise. Art Hives are about community building, sharing your skills, finding the unique gift that you contribute, and using the arts to express who you are and interact with others."
Staff at the Art Hives headquarters organized this year's symposium with the help of the Rossy Family Foundation, whose generous support in 2018 officially helped launch the first-ever Art Hive on Concordia's downtown campus. Dean of Students Andrew Woodall was also instrumental in organizing the event. In addition to participating in the the symposium, Woodall has been actively working to establish an art hive in the Guadagni Lounge, which will officially open on September 18, 2019.
"A strong sense that people mostly needed to connect with each other"
This symposium came out of a desire by art hive network members to gather and learn from each other about the movement.
"It wasn't a content driven conference," says Timm-Bottos. "Our symposiums are very special in that we are there to listen and to gather materials from the leaders of the art hives. It makes it very interesting and different to host something like this."
Students from the cross-listed Creative Arts Therapies and Art Education course instructed by Timm-Bottos were also involved as volunteers at the event. A mix of graduate and undergraduate students, they had the opportunity to gain experience organizing the symposium.
Day one kicked off with a story shared by Philip Otiohkwa Deering, a Kanien'kehá:ka elder. 
"Deering's story was about how we are all the same height, metaphorically speaking," says Chainey. "The essence of his story was that we all have gifts to offer and that everyone is equal."
Participants were invited to exchange with each other on the subject of offering, which was the theme for the day. During the open space event in the afternoon, Chainey describes that participants could host skill-shares or conversations of their choice. Some participants shared their art-based gifts, while many chose to have group discussions addressing their burning questions and dreams.
"There was a strong sense that people mostly needed to connect with each other in the room," she says.  
The second day of the symposium was dedicated to the theme of deepening principles, which involved examining the challenges faced by practitioners in the field of art therapy. Participants created artworks in clay to explore these challenges, an activity that was then followed by a Proaction Café aimed at problem solving and answering questions.
Timm-Bottos and Chainey both agree that these much needed circles of discussion were one of the most successful aspects of the symposium. "It's really such a deep satisfaction," says Timm-Bottos, who describes these moments of connection between the practitioners as "the magic of the work."
The Concordia EV location of Art Hives HQ will re-open on August 26 and the public can also look forward to an official launch event for the new art hive at Loyola Campus in the fall.
Learn more about Art Hives movement and the Department of Creative Arts Therapies.