Submitted by

Rachel @ Art Hi...

on Thu, 04/12/2018 - 14:56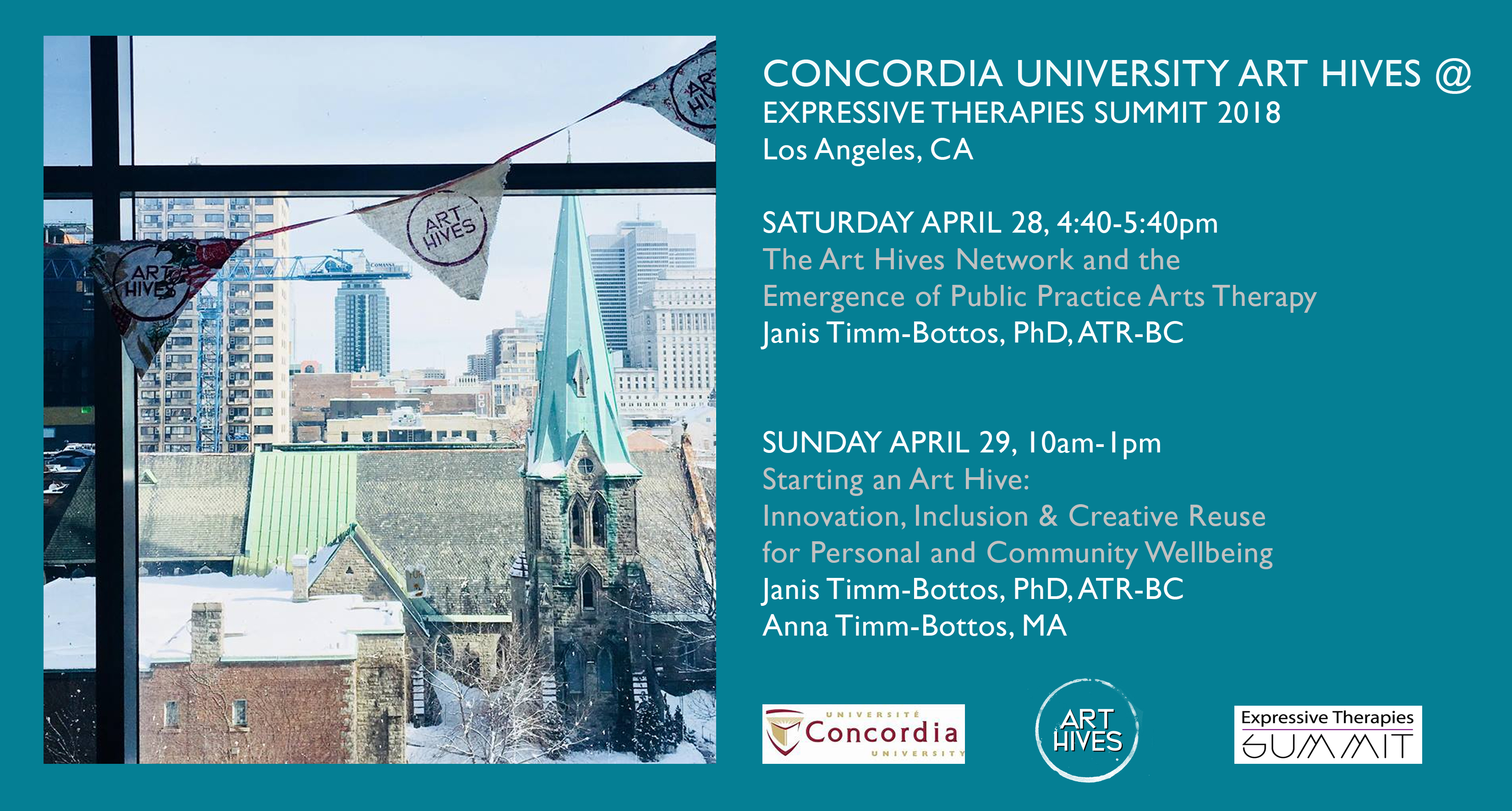 http://www.cvent.com/events/expressive-therapies-summit-los-angeles-2018/agenda-1a06175b3bc547e29b24eab6afc77277.aspx
The Art Hives Network and the Emergence of Public Practice Arts Therapy
Saturday April 28, 4:40 pm  -  5:40 pm
Janis Timm-Bottos, PhD, ATR-BC
Paige Asawa, PhD, MFT, ATR-BC, Discussant
Imagine neighborhoods filled with creative spaces that inspire imagination, awaken hearts, and mobilize action. The remarkable Canadian Art Hive movement of small and sustainable, community art studios began in 2011 with the intention of creating a network of informal opportunities for diverse individuals to learn from and support each other as a way of addressing the growing challenges of an increasingly disconnected world. Last year, Art Hive numbers doubled to 125. Led by art therapists, art therapy students, and others, these liminal spaces are located in storefronts, libraries, social service institutions, museums, schools, religious facilities, and universities. Moreover, the movement itself has led to collective innovation, such as music hives, mobile units, floating units, cooperative art cafes, shared economies, and creative reuse and repair. In this plenary presentation, we will learn how creative arts therapies can be used in social spaces to build relationships, foster well-being, enhance self-care, and positively influence an entire community's sense of agency. These techniques, which can also be used in clinical settings, will be introduced in the context of liberation psychology, as articulated by Watkins and Shulman. The rapid growth of the Art Hive movement is ushering in a new field of public practice art therapy.
Eligible for 1.0 Clock/Credit Hour: NBCC, ATCB; ASWB, APA, MFT, Nursing; LCAT, LCSW (NY State only)
---------------------------------------------------------
Starting an Art Hive: Innovation, Inclusion & Creative Reuse for Personal and Community Wellbeing
April 29 Sunday 10am-1pm
Janis Timm-Bottos, PhD, ATR-BC
Anna Timm-Bottos, MA
This practical 3-hour workshop will introduce participants to the grass roots sense of abundance and how we can do more together with less in order to address the urgent environmental and social demands of our era. Art hives are welcoming spaces of potential that develop community action and sharing economies, including how to leverage local institutions to start creative reuse centers like Concordia University's Creative Reuse Centre (CUCCR). Whether you are interested in starting an art hive or a creative reuse center or developing a regional network, come with your ideas and your vision in order to revision the abundance that is all around us to manifest sustainable community art spaces in every neighborhood. Learn how these methods bring down the costs of starting a public practice and invites everyone to contribute to the socioenvironmental culture of re-purpose and re-make.
 
Eligible for 3.0 Clock/Credit Hours: NBCC, ATCB; ASWB, APA, MFT, Nursing; LCAT, LCSW (NY State only)