Submitted by

Rachel @ Art Hi...

on Tue, 04/04/2017 - 09:46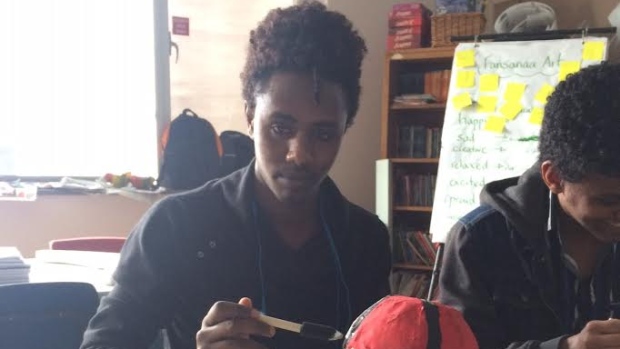 Open art studio helps create community for Holy Heart ESL students
Read full article here: http://www.cbc.ca/news/canada/newfoundland-labrador/art-hive-english-second-language-students-1.4049734
When people immigrate or seek refuge in a new country, the adjustment can be overwhelming.
In an attempt to help improve the sense of belonging amongst immigrant and refugee teenagers, Memorial University's Faculty of Education and the Newfoundland and Labrador English School District have partnered to create a community art studio in a St. John's high school.
The studio — known as an art hive — is used as a safe space for English as a second language students at Holy Heart to foster friendships and create new experiences.
Students in the Open Art Studio program hail from countries all over the world, including Tanzania, Burundi, Syria, Brazil, Jordan and China.
Sophonie Vyukusenge says attending the art hive has made him feel happier and more connected to the community. (Anna Delaney/CBC)
Sophonie Vyukusenge, originally from Burundi then Tanzania, said coming to create art each week has helped him strengthen friendships and has made him feel like part of a community.
"I like to come to art because it's fun and it makes you feel good to be with the other people," he said.  
"I've met new people … I feel happy."
Leah Lewis brought the Open Art Studio art hive to life at Holy Heart High School. (Anna Delaney/CBC)
The students meet once a week for a loosely structured art session. They crochet, draw, or make crafts out of paper mache.
"Art is both a shared practice, as well as a highly individual and private practice … They are able to engage in individual, non-verbal art making alongside their peers — which in and of itself fosters a connectedness," said Leah Lewis, project lead of the Open Art Studio and assistant professor at MUN. 
"Particularly for this population — because it's a multilingual group and English is their second, third, fourth or fifth language — it became necessary to work with a common medium that everybody could have access to."
Could encourage some to stay
Willow Anderson's research helped inspire the art hive at Holy Heart. (Anna Delaney/CBC)
Willow Anderson, a project collaborator from MUN, looks to the bigger impact a program like this can have. Just by doing an activity alongside one another can create a feeling of belonging, she said, if only for a moment.
"And that may be, potentially, the first time someone has felt they've belonged," she said.
"Could someone then have a little bit more courage to go a little bit further and meet more local people and meet more local friends, or ask how you might respond to something here that doesn't happen in their home country."
On one Wednesday afternoon, the students were busy making bowls out of papier-mâché.
Anderson said the students' enjoyment — paired with a strengthened sense of community — can prompt more immigrants to stay in the province.
"If people feel they don't belong, our chances of retaining them or of having them as productive, happy members of society are pretty small — that's just the human way," she said.
"We've done a great job at recruiting new immigrants, and we've been very welcoming to let in new refugees, but if we don't retain those people through projects like this, and creating community and creating more sense of belonging, then we may have invested on one end and not on the other."