Submitted by

Rachel @ Art Hi...

on Wed, 03/04/2020 - 14:49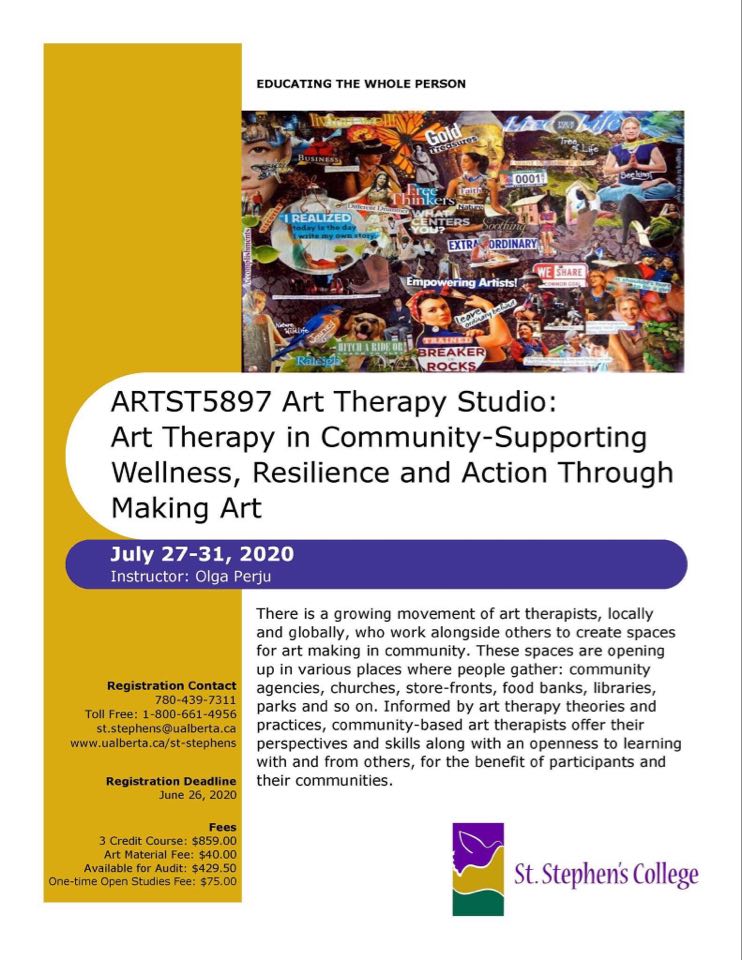 ARTST5897  Art Therapy Studio: Art Therapy in Community-Supporting Wellness, Resilience and Action Through Making Art
Dates: July 27-31, 2020   
At St.Stephen's College (University of Alberta), in Edmonton, Alberta.
Instructor: Olga Perju, MA
No art making or art therapy training required.
"In a world focused on what divides us, how about taking a course that will bring us together? Join art therapist and Art Hive practitioner Olga Perju, as we explore the ins and outs of community based open art studios (Art Hives) through art making, dialogue, connection, diversity and curiosity.
There is a growing movement of art therapists, locally and globally, who work alongside others to create spaces for art making in community. These spaces are opening up in various places where people gather: community agencies, churches, storefronts, food banks, libraries, parks and so on. Informed by art therapy theories and practices, community-based art therapists offer their perspectives and skills along with an openness to learning with and from others, for the benefit of participants and their communities."
Registration Contact: 780-439-7311 / Toll free: 1-800-661-4956
Registration Deadline: June 26, 2020
Fees:
3 Credit Course: 859$ CAD
Art Material Fee: 40$ CAD
Available for Audit: 429.50$
One-time Open Studies Fee: 75$ CAD