Submitted by

Rachel @ Art Hi...

on Sun, 07/17/2016 - 20:14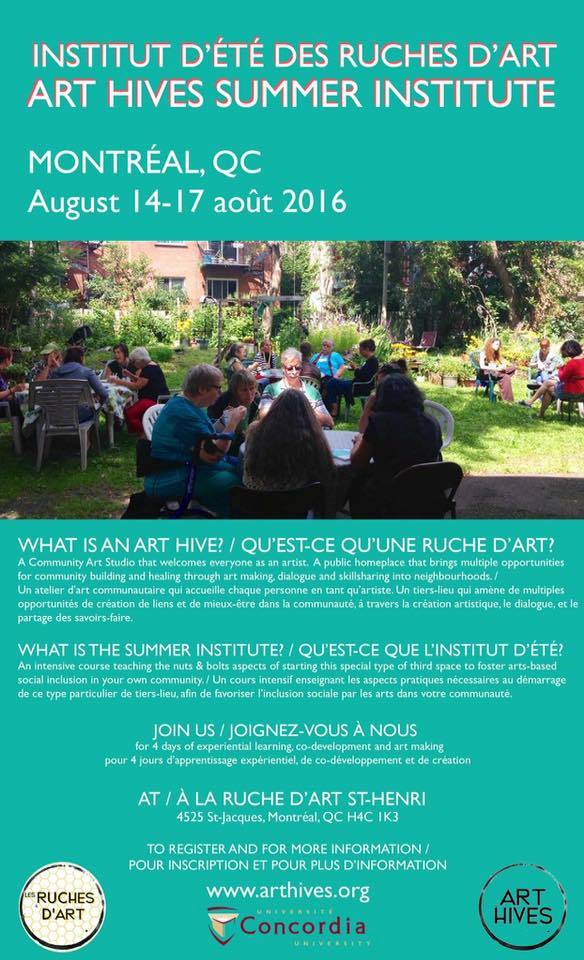 (En français à la suite)
THE ART HIVES SUMMER INSTITUTE IS COMING BACK THIS YEAR TO MONTREAL, QC - AUGUST 14-17 2016
Are you thinking about starting an art hive in your community? 
Are you working in an existing art hive and would like to improve its functioning or expand its activities? Are you looking to connect with people who share your dream? This training is just for you!
After these 4 days, you will take away:
-A new network of passionate colleagues and the many skills, ideas, tools and art making we will have shared together.
-An overview of different art hives models (legal structures, organizational models) and ways to get them off the ground and sustain them.
-A deepened understanding of the values and philosophical and historical inspirations of Art Hives and of the impact of these arts-based third spaces on individuals and communities.
REGISTER / FIND MORE INFO HERE: https://www.eventbrite.ca/e/art-hives-summer-institute-institut-dete-des-ruches-dart-tickets-25697036528
//////////////////////////////
L'INSTITUT D'ÉTÉ DES RUCHES D'ART EST DE RETOUR CETTE ANNÉE À MONTRÉAL, QC - du 14 au 17 août 2016
Vous songez à démarrer une ruche d'art dans votre communauté? 
Vous travaillez déjà dans un contexte de ruche existante et vous aimeriez améliorer son fonctionnement actuel ou diversifier ses activités? Vous chercher à rencontrer des personnes partageant votre rêve? Ce cours est pour vous!
Au terme de ces 4 jours, vous repartirez avec:
-Un nouveau réseau de collègues passionné.es et les nombreux savoirs-faires, idées, outils et création artistiques que nous aurons partagé ensemble. 
-Un aperçu de différents modèles de Ruches d'Art (statuts juridiques, modèles organisationnels) et des façons de les mettre sur pied et de les financer. 
-Une compréhension approfondie des valeurs et inspirations philosophiques et historiques des Ruches d'Art et de l'impact de ces tiers-lieux artistiques sur les personnes et les communautés.
INSCRIVEZ-VOUS / TROUVEZ PLUS D'INFO ICI: https://www.eventbrite.ca/e/art-hives-summer-institute-institut-dete-des-ruches-dart-tickets-25697036528