Submitted by

Rachel @ Art Hi...

on Fri, 02/03/2017 - 13:02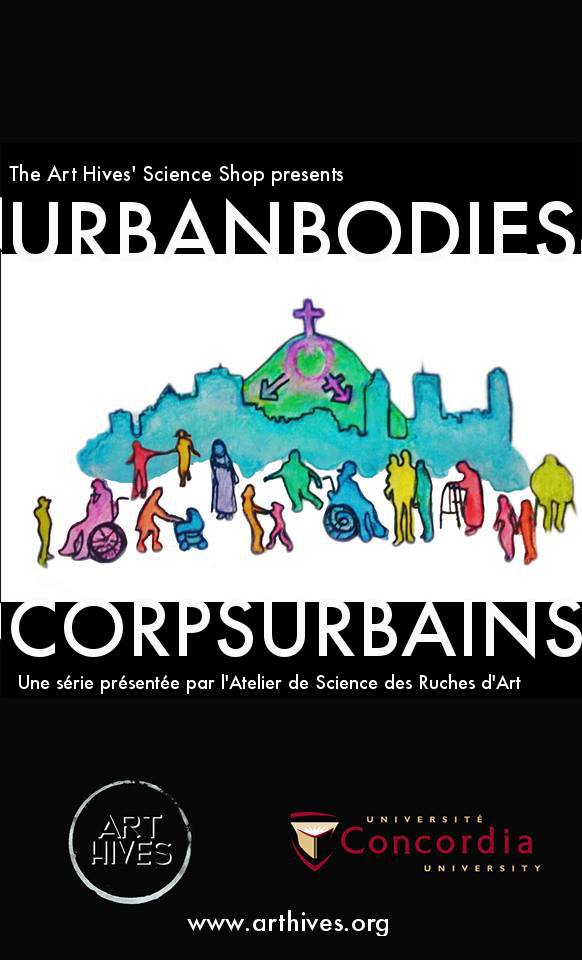 UrbanBodies series at the ART HIVES' SCIENCE SHOP:
an exploration of what matters in our everyday lives and neighbourhoods. This series of public art making conversational labs will explore the theme of the body as it lives and dies, grows and ages, struggles and thrives in the urban environment.
All conversations are free and open to all. 
 
WINTER 2017 SCHEDULE
Thursday, February 9th, 6-9pm
What's for supper? What are the health consequences of growth hormones, antibiotics, and pesticides in our food, and what can we do?
Le Milieu, 1251 Robin, Montreal
Thursday, February 16th, 6-9
The Mozart Effect: How does music affect our minds and bodies?
La Ruche St-Henri, 4525 St-Jacques, Montreal
Friday, March 17 4-7 pm
The Conditions of Well-being. What do we need to be healthy and happy?
La Ruche d'Art Pointe-St-Charles, 210 Charon, Montreal
Thursday, March 30, 3-6pm
Self-determination and ageing. How does our environment impact support networks and opportunities?
NDG Seniors Atelier, 4040 Girouard, Montreal
Thursday April 20, 1-4pm
Hidden homelessness. How can people dealing with homelessness find kinship and connection to the city?
Mile-End Community Mission, 99 Bernard Ouest, Montreal    
Saturday, May 6th, 2-5pm
A city for every body. How can feminist and critical disabilities perspectives  in urban planning improve safety and accessibility for all?
The MMFA Art Hive, 2189 Bishop, Montreal