Submitted by

Rachel @ Art Hi...

on Wed, 03/04/2020 - 18:00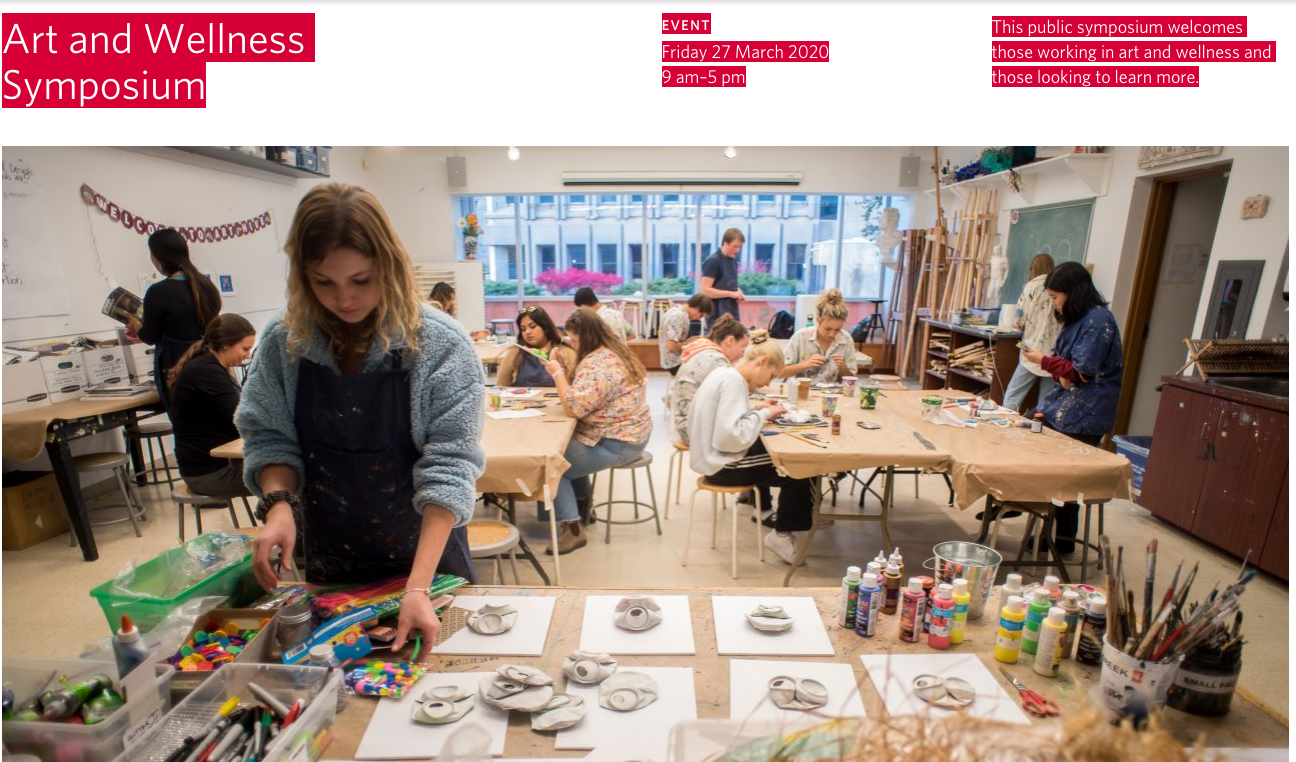 Art and Wellness Symposium
Friday 27 March 2020
9 am–5 pm
Agnes Etherington Art Centre
36 University Avenue
K7L 3N6 Kingston , ON
Canada
This public symposium welcomes those working in art and wellness and those looking to learn more.
Building on the success of Art Hive @Agnes, this public symposium welcomes those working in art and wellness — and those looking to learn more — to a supportive environment for learning about the transformative potential of the arts within communities. This symposium addresses innovative art and wellness programs and engagements in practice across museums, hospitals, art studios and community gathering spaces. Participants will experience hands-on workshops and talks from experts in the fields of community building, social prescriptions, creativity, museum wellness, craft and Indigenous practice. This event is free, register to save your spot.
Join us as we explore together how the arts can support the creation of a healthier, more connected and just society, and commit to take action at the community, institutional and political levels.
This event is made possible through the generous support of the Community Foundation for Kingston and Area
 The symposium filled quickly. Add your name to the wait list and AGNES will contact you if space opens.
SCHEDULE
9 am–9:30 am
Coffee, Workshop Registration
9:30 am–9:40 am
General Welcome and Land Acknowledgment
9:40 am–10:30 am
Keynote Presentation: "Repurposing Civic Spaces for Healing through the Creative Arts" with Janis Timm Bottos
Whether a treasured museum or a declining mall, library, park, or university building, spaces are being re-visioned into working commons of renewal and healing through the creative arts. This presentation will review relevant research and offer practical methods and technologies developing in Quebec, including Art Hives, Science Shops and Living Labs for Older Adults to collectively respond to urgent social, environmental and existential determinants of health.
10:30 am–11:30 am
Talk 1: "When the Museum Cares" with Stephen Legari
Museums the world over are increasingly becoming locations for activities in health, well-being and even therapy. This presentation will focus on the evolution of programming in the department of Education and Well-Being at the Montreal Museum of Fine Arts. The presentation will include case studies, different approaches, testimonials and artwork from a variety of co-created community partnerships. Attendees will be invited to participate in a reflective experiential using a sample of artwork from the Agnes Etherington Art Centre.
Talk 2: "Play for Creativity and Wellbeing" with Eve Blouin
In this evidence-based talk, participants will learn that creativity is a process with distinct stages, and that each stage of this process can be used as a tool for wellbeing. We will explore the creative process through the psychology of play as play allows for a curious, non-judgmental exploration of the self.
Talk 3: "The Physician as an Artist" with Max Montalvo
Gesture drawing can be used as an innovative arts-based method for medical trainees to help develop a more holistic approach to clinical medicine and to deepen the physician's appreciation of patient experiences.
11:30 am–12 pm
Tour of Current Exhibitions
12 pm–1 pm
Catered Lunch provided by Agnes
1 pm–2 pm
Keynote Presentation: "Crafting Empathy, Stitch by Stitch" with Savneet Talwar
This talk will briefly address the history of craft and fabrication and the role it can play in building community, promoting wellbeing, and skill sharing. Exploring an ethics of care methodology, the act of making and doing will be explored to illustrate the radical nature of crafting both as an individual art practice, and a means for public dialogue.
2 pm–2:15 pm
Introduction to "Thing Provocations" with Allison Morehead
Allison Morehead will discuss how she has used a practice of "thing provocations" in both art museums and medical museums to animate new conversations and new encounters among people, spaces, and so-called things.
2:15 pm–3:30 pm
Afternoon Workshops – "Thing Provocations"
Workshop 1: Soulful Singing in the Galleries with Reverend Wendy Luella Perkins
Workshop 2: Poetry in the Atrium with Kingston Poet Bruce Kauffman
3:30 pm–4 pm
Coffee Break
4 pm–5 pm
Panel: Reflective Discussion Moderated by Rachel Chainey