Submitted by

Rachel @ Art Hi...

on Mon, 12/17/2018 - 14:46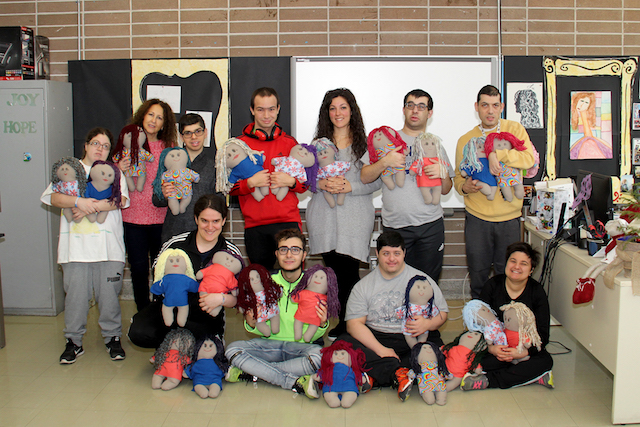 by Erica Nicole Onofrio, Art Therapist, Galileo Adult Education Centre (EMSB), Montreal-North QC
"We are all just little dolls of ourselves. Who occasionally pull back the curtains to reveal the real us" - Bruce Eric Kaplan
Source: http://www.emsb.qc.ca/emsb/articles/galileo-sis-students-create-dolls-for-single-moms-and-their-kids
As the holidays were quickly approaching, and students at the  Galileo Adult Education Centre in Montreal North  were getting anxious to celebrate the wonderful year that they had in 2018, I was inspired to offer the students a different kind of project. 
When we think of the art of making something, we most often create for our own self-expressive pleasure.  Working with the students from the Social Integration Services ( SIS)  program, I have witnessed how giving they are and willing to always put a smile on someone's face.  Therefore, we began to create dolls for single mothers, via Centre des Femmes de Montreal in the Montreal area.  As some individuals were not aware of such an organization, they were educated about the various circumstances people live within our city.  They were very receptive to donating dolls to children, as they too wanted the children to feel happy and not left out during the holidays. 
As we began working on bringing the 23 dolls to life, a sense of community began to form in our space.  The students worked together, helped one another, depended on one another, rather than seeking the help of the educators.  
Working with different fabrics, wool, and fabric stuffing, the students explored different sensory experiences.  Many skills were required when creating these dolls, both gross and fine motor skills, and the students exercised them without difficulty.
When we think of our childhood, we sometimes think of our favorite toy that we carried around with us everywhere we went.  Winnicott, a psychoanalyst from the mid-1900s, specializing in transitional objects, which includes dolls, describes them as "not-me" possessions that go through an array of experiences, both positive and negative, with a child.  With the creation of these dolls, our hopes are that they will become important additions to the children's lives, acting as a source of comfort throughout their numerous life experiences and transitions.
As the dolls came to life more and more every week, a sense of worthiness and accomplishment filled the classroom.  The action of doll making was definitely powerful within our class, as connections were made between the creators and the dolls.  Storytelling skills surfaced, as this process triggered memories for some adults.  For others, just the fact of holding the dolls was a comforting experience.  We hope that all these positive experiences will remain with the dolls as they transition to their new owners!