Submitted by

Momo

on Wed, 03/03/2021 - 11:47
Location
King Edward VII Sanatorium at Midhurst
GB
Description:
Front image: "The Chess Players" Adrian Keith Graham Hill. Oil 61 x 74 cm Derby Museum and Art Gallery
Adrian Keith Graham Hill
"Art in illness, as well as in health, will together forge a new national characteristic, which will in the end learn to venerate the creative artist, as it will ridicule and deplore the memory of the professional killer" (Hill, 1945, p 97).
"…it is natural that the soldier as much as the artist should turn to seek mental refuge in the creative arts and thence to hope. When the world is seething with death and despair the man in the street and his brother at arms crave for such antonyms as expressed by life and faith: Art provides nourishment for such longings" (Hill, 1947b, p.56).
Adrian Keith Graham Hill (24 March 1895 – 1977) commissioned by the Imperial War Museum was one of the first artists to visually record the horrors of war (WWI). A British artist, author, broadcaster and art therapist, educator Adrian Hill's long and diverse career included authoring many books about art-making and producing a BBC children's TV show called "Sketch Club" (1950s-1960s).
In 1942, Hill coined the term "art therapy" based primarily on his own war injury experience using art to heal (Hogan, p 28). Hill began drawing and painting while lying in a hospital bed recovering from tuberculosis in 1938 at the King Edward VII Sanatorium in Midhurst. He derived comfort and satisfaction from drawing objects and found the art process helpful in aiding his own recovery. A year later when occupational therapy was introduced to the sanatorium, Hill began to share his skills and experience with other patients. Hill observed that making art seemed to help divert the patients from the pain of injury and to relieve the stress associated with trauma.
Hill set the institutional stage for the profession of art therapy by convincing hospital authorities of the benefits of art as therapy. With the British Red Cross Society, Hill set up a network of lending libraries where over 200 hospitals all over England borrowed reproductions of famous artworks and hosted ongoing artists' discussions. In addition, the National Association of the Prevention of Tuberculosis and the British Red Cross teamed up to promote and fund the earliest art therapy internships in hundreds of UK hospitals, adding artists as adjunct medical staff, most notably Edward Adamson. This history significantly differs from an American bias that exclusively traces art therapy's roots to a private psychoanalytical process advocated for by Margaret Naumberg (Hogan, p.133). In 1964, Adrian Hill became the president of the British Association of Art Therapists and in 1968, the president of the Royal Institute of Oil Painters.
Selected Books by Adrian Hill
On the Mastery of Watercolour Painting (Pitman, 1939)
Art Versus Illness (G. Allen and Unwin, 1945)
Painting Out Illness (Williams & Norgate, 1951)
A Book of Trees (Faber and Faber, 1951)
Sketching and Painting Indoors (Blandford,1961)
Drawing and Painting Plants and Flowers (Blandford, 1965)
How to draw (MacMillan, 1963)
Adrian Hill's Watercolour Painting for Beginners (Cassells, 1994)
Adrian Hill's Oil Painting for Beginners (Cassells, 1994)
Beginner's Book of Anatomy (Dover, 2007)
Drawing and Painting Trees (Dover, 2008)
Suggested reading
Hogan, S. (2001). Healing arts: the history of art therapy. Jessica Kingsley Publishing. ISBN 1-85302-799-5.
O'Flynn, D. (2011). 'Art as Healing: Edward Adamson'. Raw Vision, 72, Spring 2011, p46-53.
Waller, D. (1991). Becoming a profession: the history of art therapy in Britain, 1940-82.
Routledge. ISBN 0-415058201.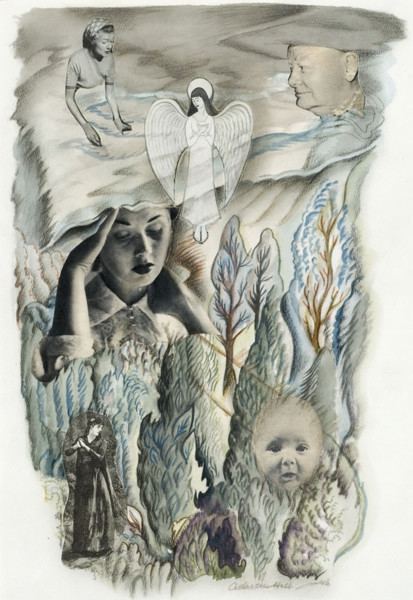 Contributed by Janis Timm-Bottos