Submitted by

Momo

on Tue, 03/02/2021 - 14:00
Image: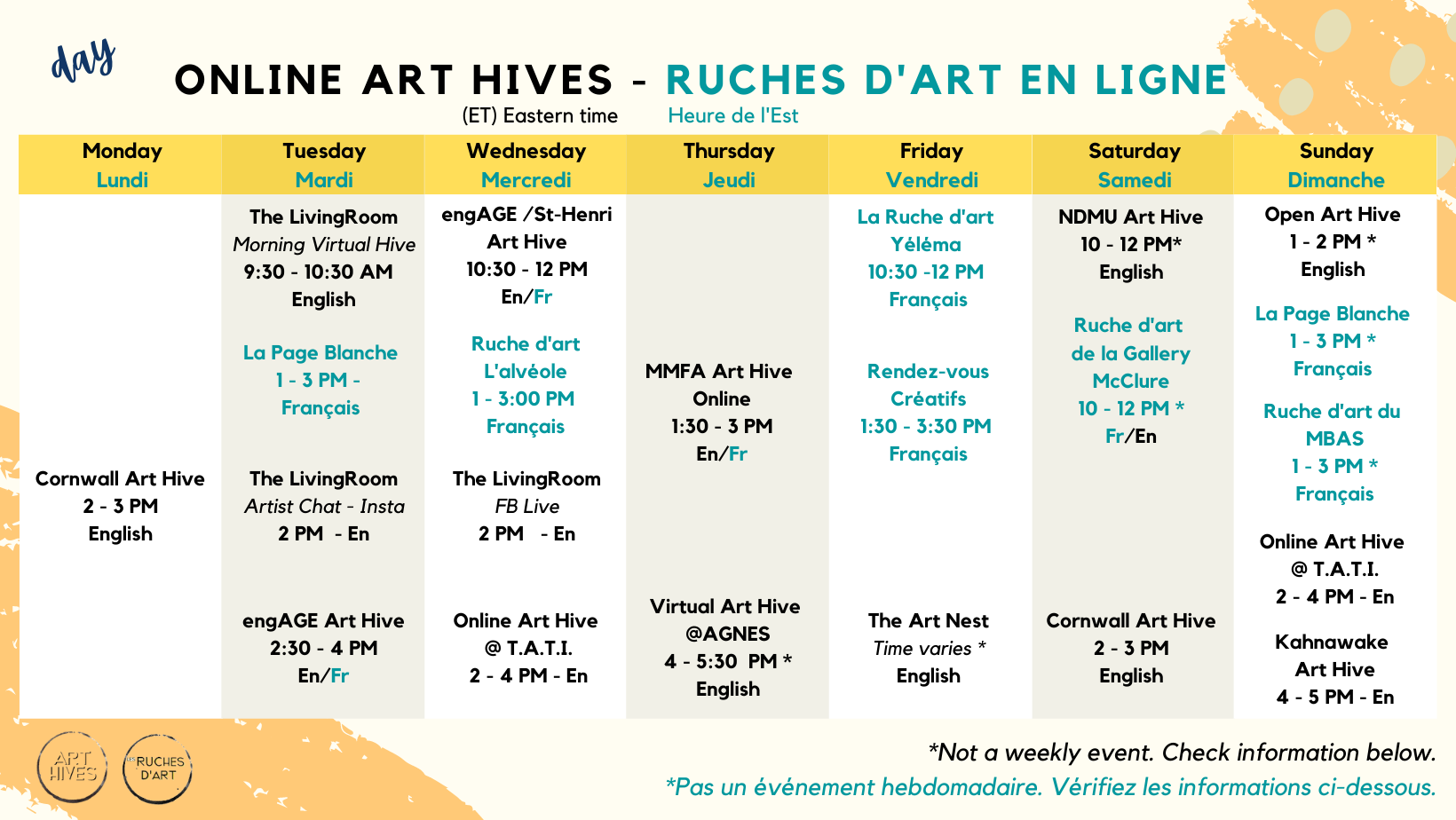 "Because we dare to believe that physical distance does not prevent us from weaving bonds".
-Nelly Daou
Since the beginning of the COVID-19 pandemic in March 2020, due to public health measures, most art hives have had to close their physical doors to the public.
In the meantime, during this challenging period, many art hives have adapted to this new shared unknown reality by moving their activities online. A few new art hives even came to life during lockdown, connecting with their communities entirely digitally across distances small and large. 
Here is the list of online art hives you can participate in.
https://arthives.org/resources/ruches-dart-en-ligne-2021-online-art-hives-document
All of them are free and open to all: 
If you currently offer an online art hive and you don't see it in this list, please contact Momo at monica.escobedo@concordia.ca.
---
« Parce que nous osons croire que la distance physique n'empêche pas de tisser des liens »
-Nelly Daou
Depuis le début de la pandémie de COVID-19 en mars 2020, en raison des mesures de santé publique, la majorité des ruches d'art ont dû fermer les portes de leurs lieux physiques au public. Pendant cette période difficile, de nombreuses ruches d'art se sont adaptées à cette nouvelle réalité partagée en déplaçant leurs activités sur une plateforme numérique. Quelques nouvelles ruches d'art ont même vu le jour durant le confiment, rassemblant les communautés de manière entièrement numérique malgré les distances, petites ou grandes. 
Voici la liste des ruches d'art en ligne auxquelles vous pouvez participer.
https://arthives.org/resources/ruches-dart-en-ligne-2021-online-art-hives-document
Chacune est offerte gratuitement et ouverte à tout.e.s. 
Si vous avez actuellement une ruche d'art en ligne et que vous ne la voyez pas dans cette liste, veuillez contacter Momo: monica.escobedo@concordia.ca.